Reading Time:
4
minutes
After one year from the release of VMware Workstation 14 and VMware Fusion 10, VMware has just released VMware Workstation 15, VMware Player 15 (for Windows and Linux PCs) and VMware Fusion 11 (for MacOSX).
A good celebration of VMware's 20th anniversary, considering that the first product was VMware Workstation.
And a good news, considering that two year ago there were some rumors and doubts about the future of Workstation and Fusion products, due to the laying off some employees from the related teams.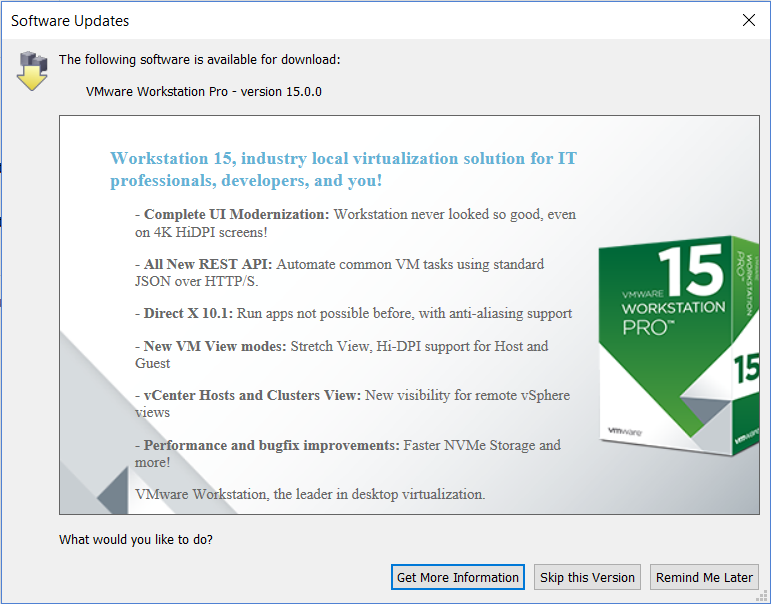 The list of the new features and improvements is very interesting:
New Guest operating systems support
The following support is new in Workstation 15 and Fusion 11 (of course, most of them were already working, but unsupported does not mean that does not work):

Windows 10 1803
RHEL 7.5 and CentOS 7.5
Ubuntu 18.04
Debian 9.5
Fedora 28
OpenSuse Leap 15.0
FreeBSD 11.2
ESXi 6.7
DirectX 10.1
It provides higher visual quality through the support of multi-sample anti-aliasing (MSAA) and also supports Shader Model 4.1 and Cubemap Array.
Hardware version 16
As usual, a new virtualization software version bring a new virtual hardware (note that latest for vSphere remain vh14 from vSphere 6.7). The new virtual hardware 16 introduced by Workstation 15 include minor improvements:


DirectX 10.1 support
Graphics memory up to 3GB
REST API
You can use Workstation RESTful API to automate common virtual machine tasks using standard JSON over HTTP or HTTPS.
The following virtual machine operations are supported:

Virtual machine inventory management
Virtual machine power management
Networking management
VCSA 6.7 and ESXi 6.7 support
Not only ESXi 6.7 is supported as a guest, but it's also possible import and run VCSA 6.7 (vCenter Server Appliance).
USB Auto connect to a virtual machine
USB devices can automatically connect to a powered-on virtual machine when you configure Workstation 15 Pro to remember the connection rule.
Note that this is a Windows host only feature.
High DPI support
High DPI related features require that the operating system of the host and virtual machine be Windows 10 version 1703 or later.

Host level high DPI support – The Workstation interface auto detects the host level DPI change and auto adjusts the layout to meet the new DPI.
Guest DPI synch with host – When there is a DPI change on the host side, the guest operating system adjusts its DPI to match the host DPI. VMware Tools 10.3.2 is required for this feature.
New user interface
Workstation Pro and Player have a fresh new face that supports the latest HiDPI 4K display resolutions for both Host (UI) and Guest (desktop) scaling.
For more information and details see this blog post (on Workstation 15) and the release notes from Workstation 15 and Fusion 11.
Like with the VMware Workstation Pro 14, there are issues with old CPU, because only "recent" CPU are supported.
For workstation 15, systems using Processors (CPUs) launched in 2011 or later are supported, except for the following.
Intel Atom processors based on the 2011 Bonnell micro-architecture.
Systems using Intel Atom processors based on the 2012 Saltwell micro-architecture.
Systems using AMD processors based on the Llano and Bobcat micro-architectures.
The following systems are also supported: Systems using Intel processors based on the 2010 Westmere micro-architecture.
For Fusion 11, it supports all Macs launched in 2011 or later are supported except for the following:
2012 Mac Pro Quad Core using the Intel® Xeon® W3565 Processor.
The following are also supported: 2010 Mac Pro Six Core, Eight Core, and Twelve Core.