Reading Time:
4
minutes
VMware certification paths are quite clear with well defined technology paths (DCV, EUC, NV, Cloud) and different levels (VCP, VCAP, VCDX).
All certifications require at least one proctored exam (some may require two different exams). The names of all exams and certifications will change using a "year" notation, but the concept remain the same.
But there are also other type of exam, non proctored and just on-line version. One example are the Foundation exams.
But there are also the VCA exams (actually exists only the VMware Certified Associate – Digital Business Transformation Exam (1V0-701)) and the VMware Specialist exams.
All of thems gives only a digital badge and not a "real certification", just a plus badge (like the VCIX badge). This means also that all of them are not usable to extend your VCP expiration time!
But was is a VMware Specialist exam?
One year ago I've wrote about my experience with vSAN 2017 Specialist exam. This was an example of a Specialist exam, in this cased based on vSAN product.
If you pass a Specialist exam and you have a valid VCP certification, you got a badge like this: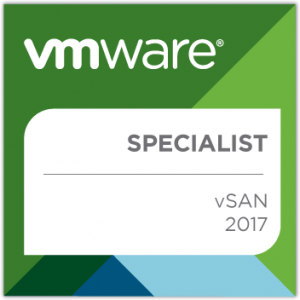 Note that the VMware vSAN 2017 Specialist exam has been retired and never (yet) been replaced by a new vSAN Specialist exam!
Actually, the list of the existing Specialist exams is the following (that include also some "Skill" exams):
2VB-602

VMware Specialist: vRealize Operations 6.x Exam

Technical professional who plans, manages and helps scale software-defined data center (SDDC) and multi-cloud environments through unified monitoring, automated performance management, cloud planning and capacity optimization. The badge holder helps organizations streamline and automate IT operations from applications to infrastructure across physical, virtual and cloud environments.

5V0-31.19

VMware Cloud on AWS Management Exam 2019

Validates skills for deploying and managing a VMware Cloud on AWS infrastructure. These skills are essential for anyone planning to migrate, build, or hybridize with VMware Cloud on AWS

5V0-32.19

VMware Cloud Provider Specialist Exam 2019

Validates expertise in deploying and managing VMware vCloud Director and demonstrates knowledge of the overall Cloud Provider Platform.

5VB-101

VMware Validated Designs for Software-Defined Data Center 2017 Exam

The VMware Validated Designs for Software-Defined Data Center 2017 badge holder is a technical expert who understands the VMware Validated Designs design decisions and can successfully deploy and configure the SDDC components to support multiple use cases.
The latest is the VMware Specialist – Cloud Provider 2019, that fill a gap for the vCloud Director product, initially covered in the Cloud path, but now no more included in it (the Cloud or CMA path it's all around vRealize Automation).
"The Cloud Provider Specialist exam provides our VMware Cloud Provider Program partners a way to validate knowledge and expertise around the key components of the VMware Cloud Provider Platform such as vCloud Director. This provides practitioners validation of the skills and knowledge needed to implement and operate a modern VMware Cloud."
But why try to get a digital badge? It does not cost much time (the exam is based on 40 questions in 60 minutes) and it's cheaper than the other exams, so it could be and investment.
But the lack of visibility of those badge (partially solved with the Acclaim too) and the fact that are not considered "real certification" may limit the real value.
Also, at this time, it's not clear at all the lifecycle of those badge (for example why the vSAN Specialist badge has been removed without adding any new "2018" or "2019" version), that make them potentially useless if the duration is limited only to one year.
Anyway it's an interesting way to test your knowledge!