Reading Time:
4
minutes
INFINIDAT has several storage product, included one specific for the public cloud: Neutrix Cloud.
With Neutrix Cloud, it is easier than ever to centralize your cloud storage and provide simultaneous access to multiple public cloud services. Run enterprise applications natively on your virtual private cloud while utilizing adjacent enterprise-class storage.

Of course it can be integrated with other INFINIDAT products: InfiniBox owners can efficiently use Neutrix Cloud as the target for replication to simplify their cloud on-ramping or as an implementation of disaster recovery as a service.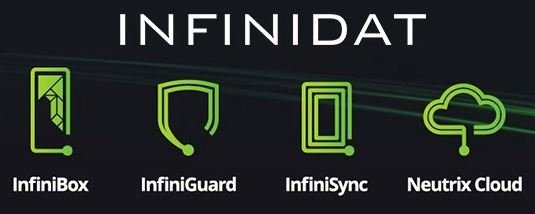 Neutrix Cloud is a sovereign public cloud storage service that offers file systems and block volumes that are simultaneously accessible from Google Cloud Platform (GCP), Microsoft Azure, Amazon Web Services (AWS), IBM Cloud and VMware Cloud on AWS compute environments. Neutrix Cloud is a pure OpEx service and can be employed standalone or with on-premises InfiniBox in hybrid cloud replication mode with an RPO (recovery point objective) as low as 4 seconds. Since initial general availability earlier this year, Neutrix Cloud has continued to add new features, steadily delivering on its roadmap for enterprise-class cloud storage-as-a-service and increasing its impact on the enterprise storage industry.
Neutrix Cloud is designed to be as easy to use as on-premises storage, employing the same style of RESTful API, and CLI as the award-winning InfiniBox family of enterprise storage solutions. No longer will you have to learn multiple storage APIs when one central cloud storage service can handle all your workloads while maintaining your data's sovereignty.
Also, Neutrix Cloud is built to deliver high availability orders of magnitude beyond the three or four nines availability typically found in public cloud storage today. Using the INFINIDAT technology foundation, including InfiniRAID, your data is proactively secured and continuously checked to ensure the highest levels of data reliability.
Neutrix Cloud delivers:

Flexibility – multi-cloud, multi-availability zone, multi-protocol
Economics – commoditize cloud compute, at scale
Features – enterprise-grade snapshots, NAS, etc
Resiliency – seven-nines backend design, five-nines SLA
Simplicity – designed to be as easy to use as native options

INFINIDAT Neutrix Cloud 2.0 offers several key new features, including:
Cross-regional data replication: Enterprises can use asynchronous replication for disaster recovery (DR) and data protection of cloud storage across Neutrix Cloud regions
Web-based GUI: With the new web-based GUI, INFINIDAT provides users with a simple interface for managing file systems, volumes, snapshots and replicas, as well as checking account details, and other higher-level functions.
Additional cloud integrations: In addition to its previous interoperability with AWS, Microsoft Azure and VMware Cloud on AWS™, INFINIDAT Neutrix Cloud now offers support for automatic Google Cloud connectivity provisioning and connectivity to IBM Cloud.
Native cloud management: AWS CloudFormation templates for Neutrix volumes and file systems provisioning.
VPN Setup Automation: Ease of use for customers is one of the key design principles for Neutrix. This release allows automatic creation of VPN connections with the selected on-premises firewall vendors.
Voice Control with Amazon Alexa: Perform common storage management tasks using just your voice.
All new features are being introduced at no extra charge.

For a general overview (related to previous version) of Neutrix Cloud see also this video from the Storage Field Day 16: