Reading Time:
3
minutes
On August 2018, VMware has officially announced that their certifications will change the names with something different and no more related to the product version.
New certification names will be identified by the year they are earned. Potentially this will make easier to immediately identify how current a certification is.
So the new certification roadmap should become (only yellow labels are officially, other may change):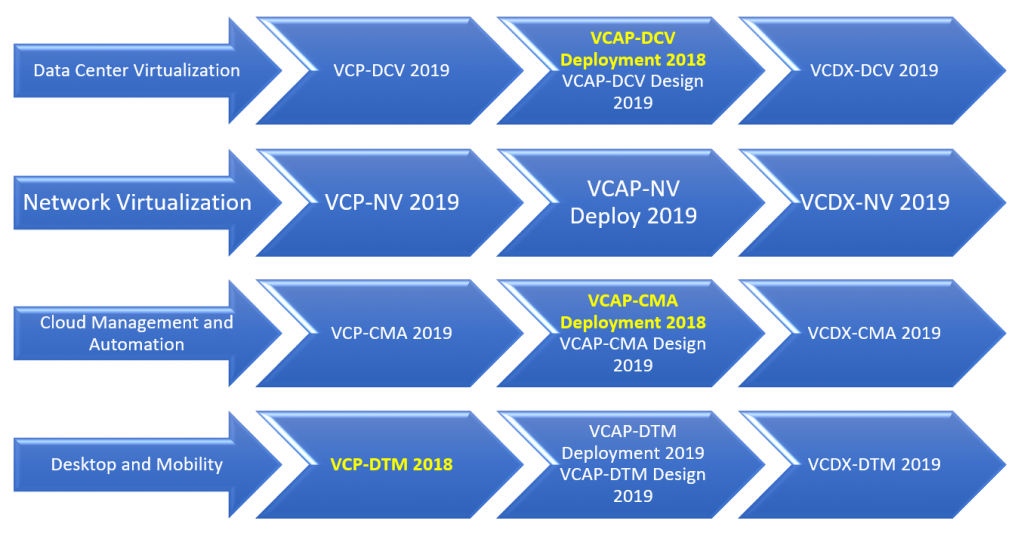 But there were some doubts on how those certification new names will match the exam names (and the course requirements).
Now VMware has clarified how will work, at least for the VCP certifications: the certification you earn depends on when you complete the requirements. If you meet all the requirements in 2019 (starting on January 16), you'll earn the 2019 certification. If you finish it in 2020, you'll earn the 2020 certification, and so on.
For each certification, there are exam requirements. When the certification launches, the most recent exam will still be available since it represents a current solution (although with a different exam code so our system will map it to the new certification). Then, based on product updates, available resources, and the timing of product releases, one or more new exams will be released.
What does it mean? That you can choose your exam version and exams will remain related to product versions, not to certification year.
Here are the exam plans for each VCP certification for 2019:
As you can see, there are multiple exam options for each certifications, based on the different product version or type (see for example NSX-V and NSX-T). That could be good to match your course requirements, but for sure will be more confusing to define on what product are your certified.
The VMware certification page has not been updated yet, but probably we will see some changes in the next weeks.
Will be also interesting see how VCP certification expiration will work, but I guess that i simple will match the years, so you have to gain a new VCP certification (direclty or indireclty using a VCAP exam) every odd or even year.
For more information see also: It's January…time for the new 2019 VCP certifications!