This post is also available in: Italian
Reading Time:
2
minutes
Every year, the VeeamON Virtual online event brings together several industry experts to showcase the latest technology solutions for cloud data management platform.
Usually, it follows the VeeamON, considering that there isn't an event in Europe (except the local VeemON Tour days in the major cities), this is a way to keep the focus on the latest announces (and use for new announces).
During this event, Veeam explores the challenges of data growth and inevitable data proliferation, the threats they pose to data availability and protection, and the steps to be taken to achieve Cloud Data Management.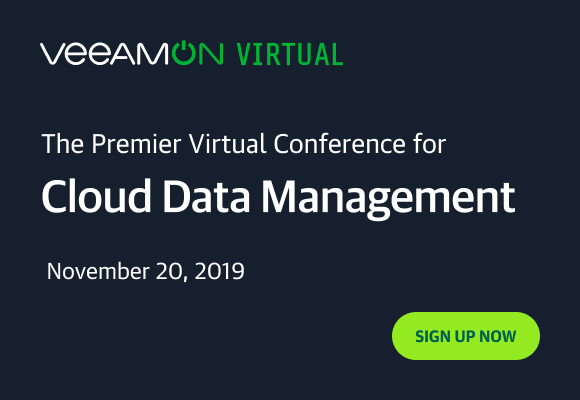 VeeamON Virtual provides also the latest insights and predictions for Cloud Data Management. Veeam will highlight predictions that will remain top of mind for 2020, including ones that will affect the backup and Availability markets. Understanding these predictions and preparing for them ahead of time will allow organizations to enhance and optimize their Cloud Data Management practice.
Engage with Veeam leading experts, partners and more than 5,000 attendees and receive exclusive access to sessions and content that will keep you on top of the new innovations, tools and techniques needed today.
Just sign up and follow the event on Twitter with hashtag #VeeamONVirtual:
Tweet #VeeamONVirtual