Reading Time:
2
minutes
Veeam has a long‑standing tradition to give back to the user community and Christmas holidays are a typical period for some raffles.
This year Veeam will giveaway three important prize: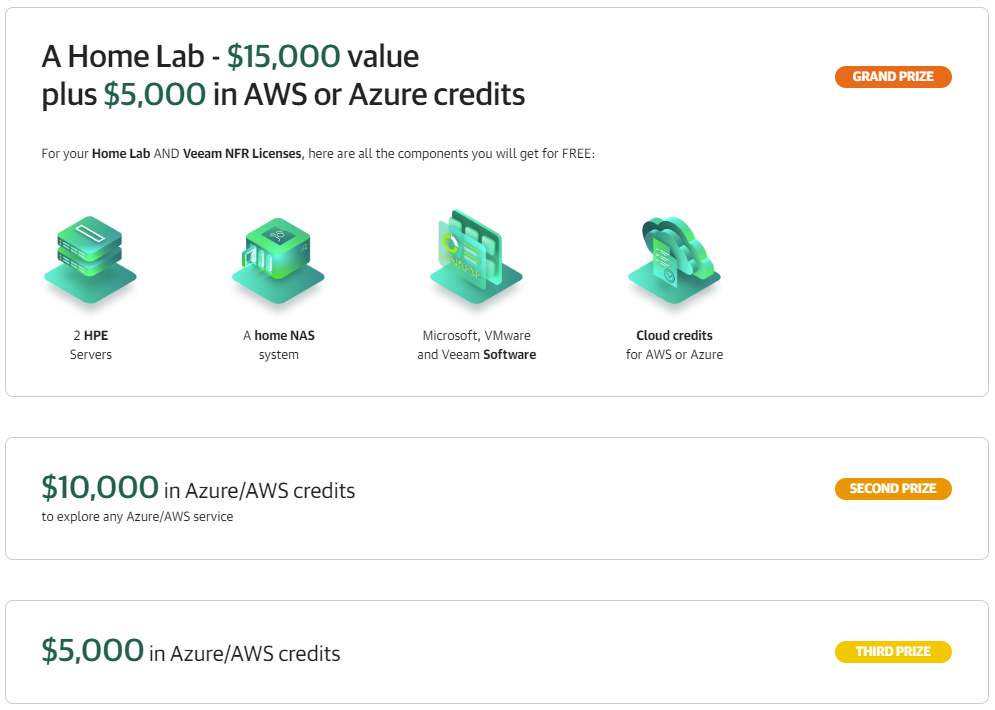 The grand prize is perfect for a home lab:
2 HPE Server
1 NAS
Veeam and VMware software (NFR)
Cloud credits on AWS and Azure
But also the other two prize are interesting because you can make interesting lab using cloud resources.
To enter the Promotion, complete the registration form on the Landing Page: https://www.veeam.com/holidaygiveaway.html
The Promotion opens at 11:59:59 p.m. CEST on December 3rd, 2019, and closes at 11:59:59 p.m. CEST on December 31st, 2019, except for China, HKT, SEAK where the promotion closes on Jan 31st, 2020.
Note that promotion is open to individuals who 21 years or older at the time of entry, if the Entrant legally reside in North America, or are legal residents in one of the EMEA countries as specified by Veeam, and are aged 21 or over. This Promotion is not open to residents of Italy, nor to Burma (Myanmar), Cuba, Iran, North Korea, the Republic of South Sudan, the Republic of the Sudan, Syria, or any other country with which the United States may prohibit export transactions.
Funny that Italy is not included, but this is a conseguence of the new export transactions rules.