Questo post è disponibile anche in: Inglese
Objective 3.2 – Configure the Storage Virtual Appliance for vSphere
Questo punto è tutto specifico di un nuovo prodotto: VMware Storage Virtual Appliance 1.0 (indicato nel blueprint con SVA, ma spesso invece indicato con VSA) for vSphere 5. Da notare che questo prodotto non è parte integrale di vSphere ma un prodotto a parte, con un suo specifico licensing e prezzo (vedere il sito VMware per maggiori dettagli).
Per realizzare un ambiente di laboratorio con l'obiettivo di testare VSA vedere questo blog:  Getting the VMware VSA running in a nested ESXi environment.
Vedere anche questo post (in inglese): Objective 3.2 – Configure the Storage Virtual Appliance for vSphere.
Define SVA architecture
Vedere la vSphere Storage Appliance 1.0 Installation and Configuration Guide (pag. 9), il documento VMware vSphere Storage Appliance Technical Whitepaper (pag. 3) e il blog vSphere Storage Appliance (VSA) – Introduction.
Un VSA storage cluster è composto da due o tre nodi ESXi 5 ciascuno con storage locale un appliance VSA (è una VM con caratteristiche particolari, quali ad esempio che non può essere migrata). Lo spazio locale di ciascun host viene convertito un un datastore NFS (con opportuna replica tra i diversi VSA) a sua volta ri-presentato agli host ESXi.
Configure ESXi hosts as SVA hosts
Come descritto in precenza una soluzione VSA può essere implementata con due diverse configurazioni:
3 host VMware ESXi 5.0
2 host VMware ESXi 5.0
Le due diverse configurazioni sono di fatto identiche, almeno nel modo di presentare lo storage. La principale differenza è nel modo di gestire e coordinare i membri del cluster VSA storage cluster; con soli 2 nodi serve un meccanismo di maggioranza che viene implementato da un servizio speciale (VSA cluster service), in esecuzione sul VMware vCenter Server. Quest servizio simula un ulteriore nodo per garantire la maggioranza and caso di failure, ma non esiste alcuno storage associato a questo servizi.
Configure the storage network for the SVA
Vedere la vSphere Storage Appliance 1.0 Installation and Configuration Guide (pag. 21). Da notare che sono richiesti due reti differenti (front-end and back-end network):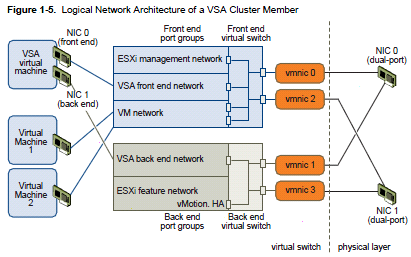 Deploy/Configure the SVA Manager
Un'installazione di VSA deve iniziare dall'installazione del VSA manager, una componente software che viene installata nella stessa macchina del VMware vCenter Server. Una volta completa l'installazione, nel vSphere client sarà disponibile il plug-in del VSA manager, che permetterà di accedere al tab relativo di gestione del cluster.
Da notare che, in questa release 1.0, un'instanza di vCenter Server 5.0 può solo gestire un solo VSA storage cluster.
Administer SVA storage resources
Vedere la vSphere Storage Appliance 1.0 Administration.
Determine use case for deploying the SVA
VSA permette di usufruire di varie funzionalità di vSphere (incluse VMware HA, vMotion, DRS, …) senza la necessità di comprare uno storage fisico condiviso. Per questa ragione VMware ritiene la soluzione molto cost-effective (personalmente, anche nel caso del bundle con l'Essential+, ritengo comunque il prodotto non troppo "economico") e particolarmente indicata per il mercato SMB/PMI.
Il deploy di VSA è particolarmente seplificato, visto che molte delle attività di configurazione (come la configurazione della rete e di vSphere HA) sono svolte direttamente dall'installer. Secondo VMware anche un utente che non conosce in dettaglio vSphere può essere in grado di implementare VSA.
Un aspetto invece importante di VSA è la sua resilienza: se un host ESXi fallisce (con la sua parte relativa di VSA) o un singolo membro del cluster VSA fallisce, il datastore NFS verrà automaticamente cambiato sul relativo VSA di replica.
Determine appropriate ESXi host resources for the SVA
Per calcoare la capacità di un cluster VSA vedere la vSphere Storage Appliance 1.0 Installation and Configuration Guide (pag. 15).
Per quanto riguarda i requisti degli host vedere la vSphere Storage Appliance 1.0 Installation and Configuration Guide (pag. 17). Da notare che l'attuale HCL è veramente risicata e che nella versione 1.0 l'unica configurazione RAID supportata è la RAID10.
This post has already been read 1306 times.