Questo post è disponibile anche in: Inglese
Reading Time:
2
minutes
Qualche giorno fa, VKernel ha realizzato un post (Hyper-V 3.0: Closing the Gap With vSphere 5) nel quale esegue una comparazione tra il Hyper-V 3.0 con l'attuale vSphere 5.0.
Non ho idea se il post è stato realizzato prima dell'acquisizione da parte di Quest, ma in sostanza non cambia nulla: è comunque una comparazione tra due prodotti che non sono omogenei, anche perché uno saraà rilasciato probabilmente nel prossimo anno, mentre vSphere è stato rilasciato nell'agosto di quest'anno.
Quello che però traspare è il tentativo (ai posteri la sentenza se sarà riuscito o meno) di colmare il divario da VMware, almeno per quanto riguarda l'hypervisor: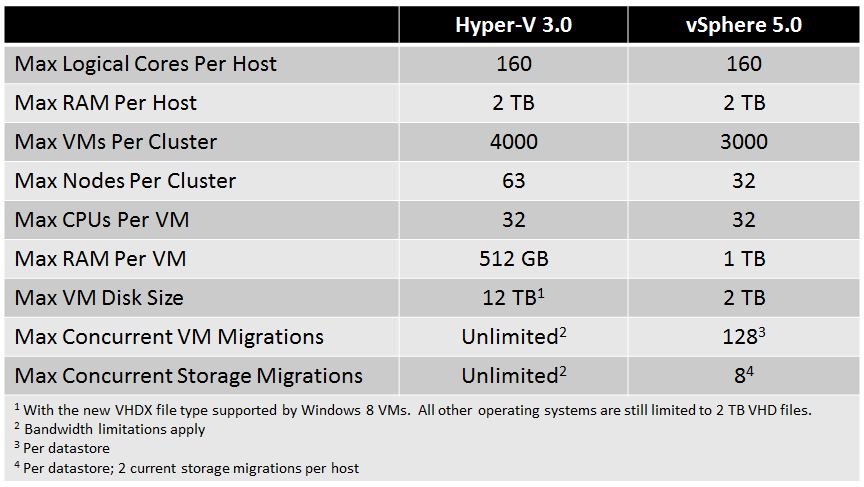 Funzionalità sicuramente interessanti di Hyper-V3 saranno:
Simultaneously live migrate both the VM and the VM's disk to a new location.
Live migrate VMs without shared storage
NIC teaming with out special third-party hardware – something VMware has already been doing and also Microsoft Partners Already Implementing Hyper-V 3 Virtual Switch
Drag-and-drop files from one virtual machine to another to directly transfer without having to pass through the host or your workstation.
The ability to host virtual disks on file servers – CIFS, SMB, NFS
Dato che Hyper-V3 sarà incluso anche in (alcune versioni di) Windows 8, diventerà interessante vedere se saranno implementati tecniche di migrazione (a freddo o a caldo) tra la piattaforma desktop e quella server. Cosa che comunque (almeno a freddo), Workstation 8 è già in grado di fare oggi (per VMware).
Sarà interessante anche vedere il discorso delle prestazioni, dove ovviamente ogni vendor cerca di tirare l'acqua al suo mulino: in agostot, VMware avera rilasciato i dettagli di un'analisi delle prestazioni realizzato da terze parti, che dimostrava come vSphere 5.0 era di circa il 20% più veloce di Hyper-V2. Chiaramente Microsoft dovrà cercare di colmare anche questo tipo di gap.
Per maggiori informazioni (in inglese):