Questo post è disponibile anche in: Inglese
Reading Time:
2
minutes
La scorsa settimana, VMware ha rilasciato l'aggiornamento per l'intera cloud platform, che includeva anche il nuovo vSphere 5.0 Update 1.
A quanto pare (al momento l'ho verificato solo su aggiornamenti dalla versione 5.0), con il nuovo vCenter Server 5.0 U1 è stata introdotta anche una nuova feature (o bug, a seconda dei punti di vista) che disabilita, nel caso di un cluster HA (indipendendemente dalle versioni degli host), completamente le proprietà relative al VM Startup & Shutdown: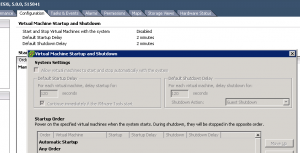 Il comportamente è confermato da più parti, come ad esempio sul post Disponibile VMware vCenter Server 5.0 Update 1.
Ritengo che sia più una feature che un bug, visto che applica alla lettera quanto riportato nel vSphere Avalability Guide (notare che era è riportato anche nei manuali delle versioni vSphere 4.x):
The Virtual Machine Startup and Shutdown (automatic startup) feature is disabled for all virtual machines residing on hosts that are in (or moved into) a vSphere HA cluster. Automatic startup is not supported when used with vSphere HA.
La curiosità era che in precedenza (fino a vCenter Server 5.0) era comunque possibile abilitare e modificare questi parametri (salvo poi trovarseli di nuovo disabilitati alla prima reinstallazione dell'HA). Ora non è più possibile a meno di collegarsi, con il vSphere Client, direttamente ai singoli host.
Pare anche (ma non ho ancora verificato direttamente) che pure la versione free è affetta da questo problema (in questo caso sembra invece un bug). Per maggiori informazioni vedere questo post sulla VMware Community.
Nota: con la patch del 12 luglio il bug è stato corretto, come anche riportato su: Clarification on The Auto Start Issues in vSphere 5.0 Update 1.