Questo post è disponibile anche in: Inglese
L'evento Open Storage Summit EMEA 2012 si è concluso giovedì scorso e devo dire che nell'ultima giornata (quella alla quale ero stato invitato), vi sono stati vari spunti interessanti, sia dalle sessioni che dalle interviste che ho avuto modo di fare.

Riguardo alle varie sessioni, l'agenda era decisamente ricca e piena, con anche ben tre differenti sessioni in parallelo nel pomeriggio…. Dato che non possiedo il dono dell'ubiquità posso commentare solo le sessioni che ho visto (in attesa di avere le slide delle altre). Quelle che ho trovato più interessanti sono sicuramente le prime due keynote del mattino: "Welcome and Opening" di Evan Powell (Nexenta) e "Industry Trends – Designing Public & Private Clouds" di Randy Bias (Cloudscaling). Non commento subito la presentazione di Evan Powell visto che ho avuto modo, poco dopo, di intervistarlo ed approfondire alcuni aspetti.
La presentazione di Randy Bias richiede sicuramente qualche dettaglio e commento, visto che è stata molto interessante ed incisiva (per alcuni aspetti forse visionaria o in anticipo sui tempi): principalmente si è focalizzato sulla differenza tra gli approcci di tipo Enterprise e Scale-out che derivano da diverse esigenze (applicazioni già esistenti/legacy contro le nuove "elastic apps") e che richiedono design completamente differenti (in un caso le applicazioni fallisco e i sistemi vanno disegnati per non fallire mai, nell'altro caso i sistemi possono fallire e le applicazioni devono "solo" gestire il fallimento, garantendo la continuità e la disponibilità). L'evoluzione informatico ha anche definito diverse ere storiche con diversi player, definito anche nuovi paradigmi, visto che le scale-out apps richiedono di elastic infrastructure (che in fondo è uno degli elementi chiave del cloud computing). Ma naturalmente ogni applicazione può richiedere un differente livello di servizio e la sfida in entrambi i modelli è come garantire il corretto livello (classic and scale-out models) e come l'OpenStorage può rispondere ad ogni livello. Altri spunti interessanti sono stati il concetto di failure domain e cosa viene impattato da un failure (con alcuni esempi interessanti) e l'idea di "Block Devices as a Service" (usando come esempio AWS EBS).
Anche la sessione pomeridiana "Learn how VMworld's Hands on lab was built using NexentaStor" di Andy Bennett (Nexenta) è stata molto interessante, visto che sono stati forniti numerosi dettagli su come i "lab" dei VMworld sono realizzati (lato storage). Per chi è curioso, ho fotografato alcune slide: First slide, HoL Statistics, HoL Workload, HoL storage rack, HoL requirements.
Le interviste poi sono state ancora migliori, con l'occasione di parlare in modo informale, ma diretto e chiarire ed approfondire alcuni aspetti sia tecnici che di vision.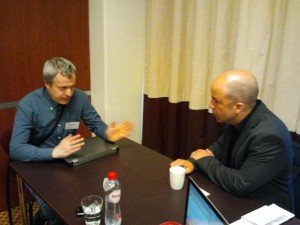 La prima intervista è stata con Evan Powell, CEO of Nexenta che mi ha confermato e dettagliato alcune sue affermazioni della keynote di apertura. OpenStorage è considerato uno storage di classe enterprise per chiunque (inteso sia in termini di costi, ma soprattutto di apertura a diverse soluzioni hardware, ma anche per diverse esigenze di utilizzo) e la forza di Nexenta è quella di avere uno storage completamente software e adattabile a diverse implementazioni; rispetto ad altri vendor questo può significare un interessante risparmio (considerando che almeno il 40% è speso per soluzioni proprietarie, vedasi ad esempio quanto costano i dischi "certificati" dallo storage vendor). Il paradosso è che praticamente tutti gli storage sono implementati in software e molto spesso usano hardware standard (tipicamente SuperMicro). Per queste ragioni i primi storici clienti di Nexenta sono stati le Università, i reparti R&D di molte aziende, i fornitori di servizi di hosting… ma oramai si sono allargati a tanti altri casi, come gli ambienti VDI, le PA e il settore bancario.
Una possibile criticità però è legata alla soluzione che viene fornita: non basta prendere il software e un hardware compatibile e certificato da Nexenta: l'intera soluzione va "certificata" per garantire la correttezza e la funzionalità. Infatti da un lato Nexenta sta lavorando con vendor hardware (e non solo) per realizzare soluzioni complete (simili agli storage "proprietari"), dall'altra spinge molto sulla qualità, capacità e formazione dei partner (non a caso i giorni precedenti erano dedicati proprio alla formazione) per garantire il successo dell'installazione e della soluzione.
Un altro aspetto interessante (citato anche nella keynote) è come la legge di Moore sia in contrasto con le esigenze di maturità dei prodotti (si stima servano almeno 1 milione di ore in produzione per rendere un prodotto "maturo"). Un po' per questo motivo, un po' per gli innegabili vantaggi, Evan conferma che per NexentaStor ZFS rimane la migliore scelta possibile e non vede grossi concorrenti o alternative a breve.
Parlando sempre di maturità dei prodotti, è interessante notare come, secondo Evan, il modello delle applicazioni Enterprise rimarrà ancora per (molto) tempo e non sarà sostituito radicalmente da quello Scale-out (almeno non secondo i modelli presentati da Randy Bias)… Del resto serviranno prima di tutto nuove applicazioni, capacità di queste di gestire i fallimenti dei sistemi sottostanti, robustezza e maturità delle stesse… inoltre la replica dei dati non sempre è una panacea, a volte si scontra con problemi di banda… e forse anche i dati vanno ripensati secondo nuovi modelli.
Alla fine abbiamo parlato anche dell'evoluzione e dei nuovi sviluppo dei prodotti Nexenta, come ad esempio il supporto per i MetroCluster, come evolve la certificazione e la partnership con gli hardware vendor e di come vede il supporto ad altri hypervisor.
La seconda intervista è stata con un cliente Nexenta: Daniel Jackobsson of Ballou Internet Services (un service provider che fornisce servizi IaaS). Mi ha raccontato il suo punto di vista e di alcuni dettagli tecnici su come ha sviluppato la soluzione (vi era poi anche una sessione pomeridiana con maggiori dettagli). Interessanti alcuni aspetti di design, come la strutturazione dei datastore per sfruttare al meglio la deduplica, ma nel contempo anche come garantire livelli di servizio differenti. Interessante anche la scelta del protocollo di storage: hanno optato per iSCSI invece di NFS fondamentalmente per avere le funzioni di VAAI (che al momento non sono disponibili nella modalità NFS). Interessanti anche le loro analisi economiche/finanziarie sia sul risparmio rispetto ad altre soluzioni (2-3 meno) sia sul ROI e sul numero di VM che li portava a pareggio dell'investimento (e il numero era relativamente basso).
La terza intervista è stata con Sakthi Chandra, NexentaVSA for View Director che mi ha fornito un'ottima panoramica ed alcuni interessanti dettagli su questo prodotto (realizzato in partnership diretta con VMware). Sicuramente farò un post specifico per fornire più informazioni sia sul prodotto che sull'approccio particolare (local storage vs. shared storage).
L'ultima intervista è stata Theron Conrey,  Nexenta Senior Solutions Engineer che mi ha raccontato della sua esperienza (ancora relativamente breve) in Nextenta, del suo compito e ruolo e soprattutto del suo punto di vista. In molti lo conosceranno o ne avranno sentito parlare, visto che molto attivo in diverse community (è stato vExpert, TechField delegate, blogger, …), sicuramente si è dimostrato una persona alla mano ma anche molto valida dal punto di vista tecnico. Quello che forse mi ha colpito è stata la sua motivazione per entrare in Nexenta: dal suo punto di vista Nexenta è la "nuova VMware" però nel mondo dello storage. Come VMware ha modificato e ridefinito il mondo e la visione dei server, così Nexenta ha le carte in tavola per ridefinire il mondo degli storage… La curiosità è che VMware lo ha fatto con un'implementazione completamente software (e in pochi inizialmente gli davano credito), allo stesso modo Nexenta punta su una soluzione completamente software.
This post has already been read 1613 times.