Questo post è disponibile anche in: Inglese
Reading Time:
4
minutes
Nel post precedente abbiamo visto le principali caratteristiche e i concetti base di NexentaVSA for View. Ora forniamo ulteriori dettagli sulla parte architetturale di questo prodotto. Maggiori dettagli sono disponibili nella guida NexentaVSA VMware View HW Reference (che include anche interessanti scenari e criteri di dimensionamento).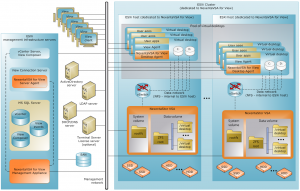 In una soluzione a storage locale per parti principali sono:
NexentaVSA for View Management Appliance: la parte di gestione di tutto l'ambiente e viene fornito sotto forma di un VA eseguibile su qualunque host ESXi.
NexentaStor VSA: è un virtual storage appliance (VSA) che fornisce la parte di storage ed è basata sulla stessa componente di storage di Nexenta. In realtà l'interazione con questa componente avviene sempre e solo attraverso i wizard. Per ogni host ESXi con il suo storage locale sarà necessario un NexentaStor VSA che convertirà lo storage locale in storage NFS (ma, come già spiegato, non fornisce funzioni di alta disponibilità e/o replica tra altri VSA). Per certi versi, lato host, è del tutto simile al VMware VSA (salvo che non dispone dell'alta disponibilità e che la sua scalabilità non è limita a 3 nodi).
NexentaVSA for View Server Agent: gestisce le comunicazioni tra handles all communication between NexentaVSA for View e le componenti di VMware. Viene installatto sul View Connection Server ed è obbligatorio (è curioso come non si sia riusciti ad usare le API standard al suo posto).
NexentaVSA for View Desktop Agent: gestisce le comunicazioni tra NexentaVSA for View e i virtual desktop. Viene installato nel desktop template (nella macchina di riferimento per il pool). Da notare che non sostiuisce il View Agent e/o le VMware Tools: la sua funzione è integrarli per fornire funzioni altrimenti non possibili (come ad esempio l'analisi dettagliata sulle prestazioni e il funzionamento dei desktop virtuali).
Naturalmente saranno necessarie anche le parti relative a View e vSphere, per completare l'architettura.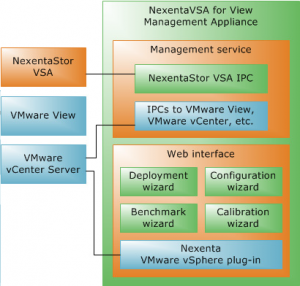 Il NexentaVSA for View Management Appliance include diverse compomenti che servono per "dialogare" con View, vCenter Server e la parte di storage, oltre che ovviamente un'interfaccia web di gestione con diversi wizard per semplicare il compito dell'amministratore ed ottimizzare i diversi workload VDI.
Per la parte storage, come già scritto, viene utilizzato il NexentaStor VSA (nella soluzione a storage locale). La scelta è per diverse ragioni, alcune tecniche (come ad esempio sfruttare al meglio il ZFS filesystem), altre di marketing (ovviamente per spingere il prodotto di storage dello stesso vendor).
Nel caso di una soluzione a storage condiviso, viene utilizzata una soluzione basata su NexentaStor Server, su sistemi dedicati, e (per ragioni di alta disponibilità) in configurazione cluster.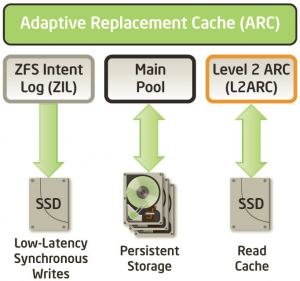 Per la parte storage, l'utilizzo di un Hybrid Storage Pool è consigliato per migliorare ed ottimizzare le prestazioni. Gli elementi che lo compongono sono:
Adaptive Replacement Cache (ARC): the main ZFS cache stored in RAM.
Level Two Adaptive Replacement Cache (L2ARC): provides a larger, second-level cache to accelerate read operations. SSDs can be deployed here to cache read operations. Sizing RAM is important in calculating the size of the L2ARC (For example, it would make sense to store database pointers in RAM to enable quick access to records in the L2ARC, and to size RAM and the
L2ARC accordingly).
ZFS Intent Log (ZIL): a separate intent log allows synchronous writes to be written quickly and acknowledged in the transactional model that ZFS uses. For VDI workloads, adding SSDs as a ZIL to cache writes significantly enhances performance.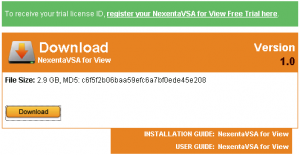 Tutte le componenti software sono incluse in un unico grosso file (in formato tar.gz) disponibile nella pagina del download.
Il file contiene le seguenti cartelle:
Agents: include gli agenti per la parte server e desktop.
Docs: include le guide all'installazione e all'uso del prodotto.
NexentaStor_Template: la parte di storage sotto forma di VSA in formato OVF.
NexentaVSAforView: la parte di management sotto forma di VA in formato OVF.
Nel prossimo post vedremo come usare tutti questi file.