Questo post è disponibile anche in: Inglese
Reading Time:
2
minutes

As already written, during this edition of Powering the Cloud, I have a speech:
Mercoledì 31 ottobre 2012 alle 14:00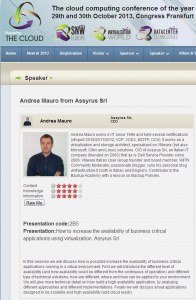 In questa sessione vedremo i differenti approcci per aumentare la disponibilità e il livello di servizio di applicazioni business critical che siano eseguite in un ambiente virtualizzato.
Inizialmente descriveremo i diversi livelli di disponibilità e le differenti soluzioni tecniche, confrontanto soluzioni quali VMware HA (con application monitoring), VMware FT e il guest clustering. A quel punto forniremo maggiori dettagli sul guest clustering, analizzando diversi approcci e differenti implementazioni.
Per concludere discuteremo delle applicazioni "cloud ready" già progettate per gestire la disponibilità e la continuità di servizio.
Tutte le slide della presentazione saranno disponibili, nei prossimi giorni, sul sito dell'evento.