Questo post è disponibile anche in: Inglese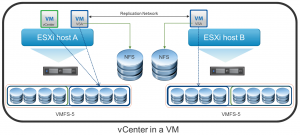 VSA (VMware vSphere/Virtual Storage Appliance) è una soluzione (e anche un prodotto a sé stante), introdotto per la prima volta con vSphere 5.0, che permette di trasformare lo storage locale degli host ESXi in storage condiviso, accessibile tramite NFS. L'aspetto forse più interessante è che questo storage viene protetto attraverso il meccanismo di replica offerto dalla VSA stessa.
Il vantaggio è poter disporre di funzioni avanzate (come VMware HA o vMotion) che richiedono storage condiviso (anche se l'ultima versione di vMotion può funzionare anche senza questo requisito).
Avevo già introdotto questo prodotto, in uno degli obiettivi dell'esame VCP (dato che vi sono un paio di domande su VSA 1.0 all'interno dell'esame VCP5, ma personalmente ritenevo VSA 1.0 poco appetibile per alcuni evidenti svantaggi:
Costo: dal mio punto di vista il costo è troppo alto, soprattutto per il tipo di segmento per il quale è pensato (piccole e medie imprese).
Utilizzo dei dischi: nella priva implementazione era necessario usare un RAID1+0 per lo storage locale, quindi lo spazio utile diventava complessivamente del 25% (considerato che c'è anche la replica tra nodo che agisce come una altro livello di RAID1). A dire il vero, il 23 gennaio  2012, questo vincolo è stato rilasciato ed era possibile usare anche RAID 5 o RAID 6. Un altro grosso limite era che non vi era modo di ridimensionare lo storage, dopo il deployment.
Dipendenza da vCenter Server: rendeva decisamente complicato (e non supportato) avere un vCenter Server virtual nello storage della VSA.
Limite per host: max 6 TB con dischi da 3 TB oppure max 9TB con dischi da 2 TB.
Scalabilità: limitata ad un massimo di 3 nodi (il minimo è ovviamente 2).
Con la nuova versione, è che stata rinominata direttamente in VSA 5.1 (per omogeneità con i resto della suite), molti di questi limiti sono stati rimossi o cambiati. Ma il limite sulla scalabilità rimane ancora a 3 nodi al massimo (vedremo cosa succederà con il software defined storage e con il Distributed Storage).
Da notare che VSA 5.1 funziona sia su vSphere 5.0 che  5.1 e può sfruttare le funzionalità di single sign-on (SSO) presenti in vSphere 5.1.
Costo
Alla fine la VSA (o meglio la licenza per una istanza, per un massimo di 3 nodi) è stata inclusa in tutti i bundle vSphere 5.1, eccetto l'Essential. In questo modo può essere disponibile senza costi aggiuntivi!
Utilizzo dei dischi
 VSA 5.1 ora supporta l'incremento on-line della capacità di storage di un VSA cluster. Inoltre, per chi passa da VSA 1.0 vi sono 3 diverse possibilità:
Convertire il RAID 10 a RAID 5/6.
Aggiungere altri dischi, distruggere il RAID corrente e creare un nuovo RAID.
Aggiungere nuovi dischi e creare una nuovo RAID, mantenendo i dati.
Inoltre abbiamo anche:
possibilità di usare più di 8 dischi per host;
possibilità di scegliere quanto spazio locale dedicare alla VSA quale storage condiviso;
possibilità di recuperare lo spazio libero del VMFS datastore locale semplicemente con la nuova funzione 'Increase Storage'.
Storage limits
VSA 5.1 maximum with 3 TB drives:
8 disks of up to 3TB capacity in a RAID 6 configuration (no hot spare)
18TB usable by the VMFS-5 file system per host
Across three hosts, a total business usable storage of 27TB
VSA 5.1 maximum with 2 TB drives:
12 local disks of up to 2TB in a RAID 6 configuration (no hot spare)
16 external disks of up to 2TB in a RAID 6 configuration (with hot spare)
VMware supports maximum VMFS-5 size of 24TB per host in VSA 5.1
Across three hosts, total business-usable storage of 36TB
vCenter Server dependecy
Finalmente vCenter Server può anche girare sul cluster VSA 5.1 cluster ed inoltre è stata eliminato il requisito di avere l'istanza vCenter e gli host ESX nella stessa subnet.
Altro vantaggio è la possibilità di installare ed utilizzare la VSA anche in ambienti già in uso, questo enhancement supera il limite della versione precedente che imponeva l'installazione della VSA in un ambiente "fresh insall"; in questo caso vCenter Server può essere installato in una VM su storage locale, si può configurare lo spazio rimanente per il VSA, spostare il vCenter Server con lo Storage vMotion (presente comunque in modalità trial nei primi giorni dell'installazione) e poi lo spazio del VSA può essere "allargato" per recuperare anche lo spazio locale lasciato libero dal vCenter.
Remote Office/Branch Office (ROBO) Support
VSA è il prodotto ideale per le piccole realtà che non dispongono di budget per uno storage condiviso, ma anche per le grandi aziende che intendono gestire gli uffici periferici che richiedono storage condiviso, ma con un investimento minimo.

Inoltre VSA 5.1 permette la gestione centralizzata di diversi cluster VSA da un singolo vCenter Server (idealmente quello nella sede centrale), questo anche grazie al fatto che il vCenter Server può trovarsi in una rete diversa da quella del cluster VSA (limite della versione VSA 1.0).
Da notare, che nel caso della configurazione a due nodi è richiesta anche una "specie" di quorum, chiamato "VSA Cluster Service" che normalmente gira sul vCenter Server instance. In realtà con la versione 5.1 il tiebreaker per la configurazione a due nodi può anche girare localmente alla sede remota: il tiebreaker non è altro che un insieme di archivi Java (JAR) che possono essere eseguiti su una macchina Windows o Linux.
Altro aspetto interessante e specifico per gli ambienti ROBO è la gestione ottimizzata degli aggiornamenti.
Maggiori informazioni
This post has already been read 943 times.