This post is also available in: Inglese
Reading Time:
2
minutes

Oggi si è concluso il secondo Dell Storage Forum europeo, che si è caratterizzato da alcuni interessanti annunci , benché non vi fossero tutti quelli attesi (ma del resto tra meno di un mesi vi sarà il Dell World e immagino che qualche annuncio se lo siano tenuto per quell'evento).
Nelle prossime settimana scriverò un report dettagliato delle giornate. Nel frattempo potete leggere qualcoso su questi link:
Terza edizione europea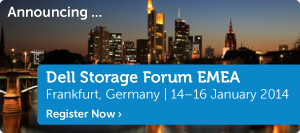 Oggi è stata annunciata anche la data e il luogo della prossima edizione europea (in realtà è considerata edizione EMEA). Per un gioco di mesi, nel 2013 non vi sarà alcuna edizione (l'idea di Dell è farne una all'anno e questa edizione è un po' come se fosse stata quella del 2013).
Quindi la prossima (in Europa) sarà nel 2014, dal 14 a 16 gennaio e si svolgerà in Germania a Francoforte… A questo punto immagino che possa essere nella stessa zona dell'evento Powering The Cloud, nell'area Frankfurt Messe che è comunque facilmente raggiungibile dall'aeroporto. Nella pagina della registrazione vi sono già anche le informazioni sull'albergo: Sheraton Frankfurt Airport Hotel and Conference Center – Hugo-Eckener- Rick 15.
Curiosità: la prima edizione si è svolta nel Regno Unito, la seconda in Francia, la terza si svolgerà in Germania…. magari la quarta sarà in Italia?