Questo post è disponibile anche in: Inglese
Reading Time:
4
minutes
Avevo già descritto il percorso di upgrade a VMware View 5.1, ma da allora vi sono state alcune patch (siamo arrivati alla versione 5.1.2) e quindi potrebbe essere interessante discutere del relativo percorso di patch update. Naturalmente le relative HCL possono cambiare leggermente (in questi casi, di solito, estendendo il supporto) e, per esempio, le versioni recenti di View 5.1 sono perfettamente compatibili con versioni recenti di vSphere 5.1 (ma anche con versioni precedenti).
Le varie build disponibili sono:
VMware-viewcomposer-3.0.0-691993
VMware-viewconnectionserver-x86_64-5.1.2-928164
VMware-viewagent-5.1.2-928164
VMware-viewagent-x86_64-5.1.2-928164
La procedura di update è, di fatto, identica ad una qualunque procedura di upgrade. Si parte quindi dai View Connection Server:

L'aggiornamento degli stessi è un banale next-next senza particolari problemi o disservizi (vi potrebbe essere solo se i client tunnellizano il traffico sui Connection Server); oltretutto non richiede neppure il riavvio di Windows. Alla fine verificate la versione tramite il View Manager:

Il passo successivo è quello di aggiornare i View Security Server, operazione del tutto simile alla precedenza con però alcune particolarità. Non vi sono riavvi di Windows, ma bisognerà pianificare dei potenziali disservizi (o gestirli tramite i load balancer). Si parte dal ricreare una chiave di re-pairing per ricollegare ciascun Security Server al suo Connection Server: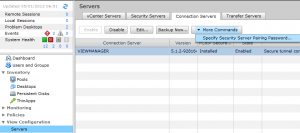 Sarà anche necessario preparare il server all'upgrade: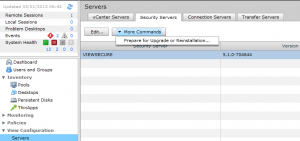 Questo generare il seguente messaggio che notifica i potenziali downtime:
This Security Server is paired with the 'VIEWMANAGER' View Connection Server instance using IPsec. If you continue, the IPsec rules that control communication between the security server and View Connection Server instance will be removed. The current IPsec rules must be removed before you can upgrade or reinstall this security server and pair it again with the View Connection Server instance. Continue only if you intend to upgrade or reinstall.

Warning: If you remove the IPsec rules for an active security server, all communication with the security server is lost until you upgrade or reinstall the security server.

Click OK to remove the IPsec rules now. Otherwise, click Cancel.
In realtà ho provato la procedura di aggiornamento collegato ad un Virtual Desktop e non ho perso alcuna connessione, tranne durante il riavvio del servizio (avvenuto comunque in automatico durante l'aggiornamento).
Notare che affinché si usi la connessione IPSec è fondamentale che sia Secure Server che il Connection Servers abbiano il Windows Firewall attivo.
A questo punto è possibile passare al View Composer; in realtà potrebbe essere già della versione giusta, quindi prima controllatela attraverso il View Manager: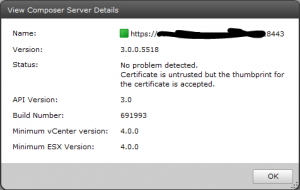 Altrimenti basta far partire l'installazione e se seguire il relativo wizard. Con le uniche accortezze di mantenere la stessa connessione ODBC DSN già esistente: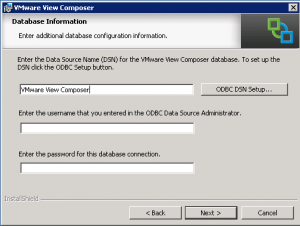 E lo stesso certificato SSL: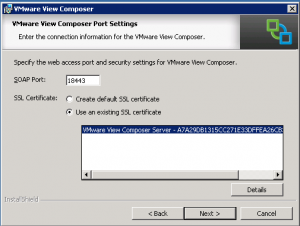 A questo punto è possibile passare ai View Transfer Server, poi ai View Agent (ricomponendo poi i vari pool) e i View Client.
Alla fine bisogna anche ricordasi di aggiornare i template delle GPO: