Questo post è disponibile anche in: Inglese
Durante il recente VMworld Europe, ho avuto l'opportunità di parlare con Henrik Rosendahl, SVP of Cloud Solutions di Quantum a riguardo dei loro prodotti per ambienti virtuali. Avevo già avuto di conoscerli un anno fa, in occasione dello scorsa edizione di Powering The Cloud e quindi è stata l'occasione di scoprire le novità di questi ultimi mesi.
Quantum è un nome storico nel campo della data protection. Presenti dal 1980, Quantum vende i suoi prodotti attraverso la sua rete mondiale di più di 20 distributori e 5,000 reseller. Quantum vende anche attraverso la linea OEM ribrendizzata poi da grossi vendor come Dell, EMC, Fujitsu, HP, IBM and NetApp.
Ma a discapito di quanto si possa pensare, non realizzano solo soluzioni hardware (sicuramente le più note sono quelle legate ai prodotti per il backup to tape), ma anche diverse soluzioni software, sempre nell'ambito della data protection.
Interessante anche il percorso professionale di Henrik Rosendahl, a dimostrazione dell'evoluzione dell'azienda e delle sue strategue. Henrik è stato il CEO di Pancetera prima di essere acquisita da Quantum. E in precedenza è stato Director of Application Virtualization in VMware, a seguito dell'acquisizione, da parte di VMware di Thinstall (dove era stato il relativo CEO).
Ed è proprio lui che mi ha confermato l'interesse costante di Quantum nel settore relativo ai backup e alla data protection (settore che comunque ha subito anche un colpo dall'aumentato interesse di VMware con la versione Advanced di VDP).
La loro soluzione di backup vmPRO VM Data Protection Software (giunta alla versione 3.1) rientra in quei software di backup nativi per la virtualizzazione (al momento solo VMware) ed è caratterizzato dal fatto di salvare direttamente in formato VMware (approccio interessantethis considerando la possibilità di restore senza prodotto di backup) e utilizzano una tecnica di qualificazione dei dati per evitare di salvare inutili informazioni (come ad esempio lo swap file). Può essere abbinato ai sistemi di deduplica DXi per salvare i dati su disco o NAS o sul cloud, oppure è possibile utilizzare lo Scalar LTFS per memorizzare i dati su una tape library. Il prodotto è un virtual appliance, ma esiste anche una version di tipo appliance fisico (vmPRO 4000).
Per quanto riguarda i sistemi di tipo Disk Backup, questi sono il target ideale per il vmPRO, ma non necessariamente l'unica scelta. Il vantaggio di usare la serie DXi è data dal motore di deduplica pensato proprio per questi casi e dall'integrazione con l'offerta cloud. Da notare che esiste anche una soluzione di deduplica sotto forma di virtual appliance (DXi V1000).
Sia vmPRO che il DXi V1000 sono disponibili anche in forma gratuita con l'unica limitazione sullo spazio gestibile: vmPRO Stardard edition è free fino ad 1TB e DXi V1000 è free fino a 15 TB.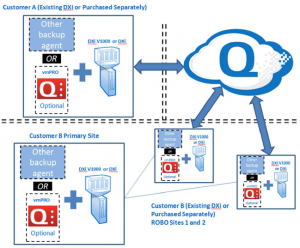 Alla  fine abbiamo parlato di Q-Cloud, la soluzione di Business-Class Cloud Based Data Protection (che avevo già visto l'anno scorso). Rispetto ad altre soluzioni esistenti, questa vuole posizionarsi nel segmento enterprise ed è pensate per grandi clienti e grandi dati (fino a svariati petabyte). Al momento sono disponibili due datacenter: a Las Vegas e Londra. Esiste anche un simulatore per valutare il costo effettivo di questa soluzione che può andare da 0.08$ a GB a mese, nel caso di una simulazione con 10TB, fino a 0.01$ nel caso di una simulazione con 1PB. Ovviamente la realtà potrebbe essere diversa a seconda del tipo di dati da salvare sul cloud e dall'effettivo valore di deduplica.
Aspetto nuovo interessante è che hanno aperto anche come rivendita per altri cloud provider, tramite il programma partner che al momento già prevede una ventina di partner. Il programma è volto a minimizzare i rischi ed è pensato in una formula pay-per-use: si paga solo quando ci sono i clienti.
Vedere anche gli altri report del VMworld europeo 2013.