Questo post è disponibile anche in: Inglese
Reading Time:
2
minutes
Dopo aver aggiornato il vCenter Server è possibile passare agli host. L'aggiornamento degli host ESXi può essere completato in diverse modalità:
aggiornamento manuale con il CD di installazione di ESXi (selezionando poi la voce upgrade and keep VMFS datastore)
aggiornamento manuale tramite CLI
aggiornamento automatico tramite vSphere Update Manager (VUM)
Esistono poi altre modalità, tutte discusse nella VMware KB 2058352 (Methods for upgrading to ESXi 5.5).
L'aggiornamento manuale non presenta particolari problematiche e nel caso dell'aggiornamento tramite CLI rimando alla KB 2008939 (VMware KB: Installing patches on an ESXi 5.x host from the the command line).
Più interessante è l'aggiornamento tramite Update Manager, visto che una volta impostato poi è possibile eseguirlo in modalità automatica e orchestrata esattamente come per qualunque patch VMware.
La differenza è che bisogna creare una baseline ad-hoc di tipo aggiornamento.
Per far questo è necessario importare la ISO di ESXi 5.5 (si consiglia di utilizzare l'ultima versione disponibile), tramite il tab ESXi images all'interno di Update Manager (si ricorda che anche con vSphere 5.5 VUM può essere gestito solo dal vecchio vSphere Client per Windows):

Dopo aver selezionato Import ESXi Image… è possibile specificare la ISO di ESXi 5.5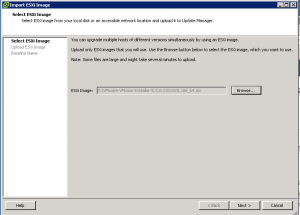 E il file sarà importato all'interno delle patch di Update Manager (alla fine sarà poi possibile cancellarlo per liberare spazio):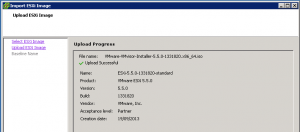 L'ultimo passo consiste nel definire una baseline (che sarà di tipo aggiornamento) associata a questa ISO:

Da qui in poi si può procedere come per ogni baseline di VUM: attach della baseline, scan (specificando baseline di tipo upgrade), remediate (specificando baseline di tipo upgrade).