This post is also available in: Inglese
Reading Time:
3
minutes
Oramai manca veramente poco al terzo Virtualization Field Day (#VFD3) dove, come già scritto, sono molto onorato di essere stato invitato, in qualità di delegato. L'evento si svolgerà il 5-7 Marzo 2014 in varie aziende della Silicon Valley (California). Aspetto interessante è che le sessioni del Tech Field Day sono disponibili anche live in streaming (anche se in questo caso l'orario non è molto favorevole all'Italia) o, successivamente, come sessioni registrate; il tutto disponibile anche ai non delegati! Rappresentano quindi un'opportunità interessante per approfondire particolari vendor e/o tecnologie (vedere anche questo post, in inglese, why you need to be watching Tech Field Day).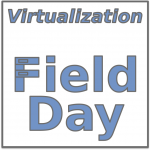 I Virtualization Field Day sono una specializzazione dei Technical Field Day, eventi organizzati da Stephen Foskett e dal suo team, con l'obiettivo di far incontrare vendor di prodotti e soluzioni IT con figure indipendenti (tipicamente blogger riconosciuti) per scambiarsi informazioni, pareri e discutere sulle relative tecnologie. I Virtualization Field Day (VFD) ovviamente sono più focalizzati su server e desktop virtualization e tutto quello che ne è legato, in particolare le tecnologie di gestione, ma non solo.
Sarà l'occasione di conoscere meglio alcuni vendor, ma anche di condividere idee ed esperienze con gli altri delegati (Marco Broeken, Alastair Cooke, David M Davis, James Green, Scott D. Lowe, Paul Meehan, Eric Shanks, Rick Schlander, Jeff Wilson, Eric Wright).
L'elenco dei vendor presenti all'evento è abbastanza ricco:
Per ragiorni logistiche e temporali, temo che non riuscirò a postare durante l'evento (più realisticamente mi limiterò a twittare), ma aspettatevi interessanti post nelle settimane successive. Qualche articolo in precedenza lo avevo già scritto su Atlantis Computing, CommVault e VMTurbo, ma ovviamente saranno da aggiornare con le novità.
Per vedere invece gli stream live dei vari incontri (esiste anche un comodo calendario con tutti gli eventi):
Vedere anche i post (in inglese) degli altri delegati al #VFD3:
Disclaimer: Sono stato invitato a questo meeting da GestaltIT e che coprirà i costi per il viaggio e l'alloggio. Ma non sarò ricompensato in alcun modo per il mio tempo e non sono in obbligo di scrivere articoli riguardo all'evento stesso e/o gli sponsor. In ogni caso, i contenuti di questi articoli non sono concordati, rivisti o approvati dalle aziende menzionate o da altri al di fuori del sottoscritto.