Questo post è disponibile anche in: Inglese
Dopo l'evento online VMware NOW: Virtual SAN Special Online Event della scorsa settimana (trasmesso il giovedì 6 marzo 2014 e disponibile anche offline), ora VMware annuncia ufficialmente la disponibilità in GA di Virtual SAN 5.5, la sua soluzione di Software-Defined Storage con l'obiettivo dichiarato di portare nel mondo dello storage la stessa efficienza e gli stessi vantaggi che la virtualizzazione ha portato nel mondo dei server.
Questo prodotto è stato ampiamente annunciato (e descritto) nei precedenti VMworld e arriva dopo un lungo ed intensivo periodo di beta program che ha avuto un'attenzione ed impatto senza precedenti (almeno per quanto riguarda i prodotti VMware): più di 12000 partecipanti al Virtual SAN Beta program rappresentano sicuramente un numero molto alto (anche considerando i vari premi e concorsi che nel mentre si erano sviluppati).
Ma il primo messaggio che emerge dai vari comunicati di questi giorni relativi a questo nuovo prodotto è che non vuole (almeno per ora) cambiare completamente l'ecosistema dello storage, ma semplicemente affiancarlo introducendo nuove modalità e nuove possibiltà da livello di at the virtual data plane (notare in questo schema anche la voce Object Storage pool, che effettivamnte non è poi stata commentata e discussa, per ora, più di tanto… ma che ragionevolmente sarà sviluppata meglio nelle prossime versioni di vSphere):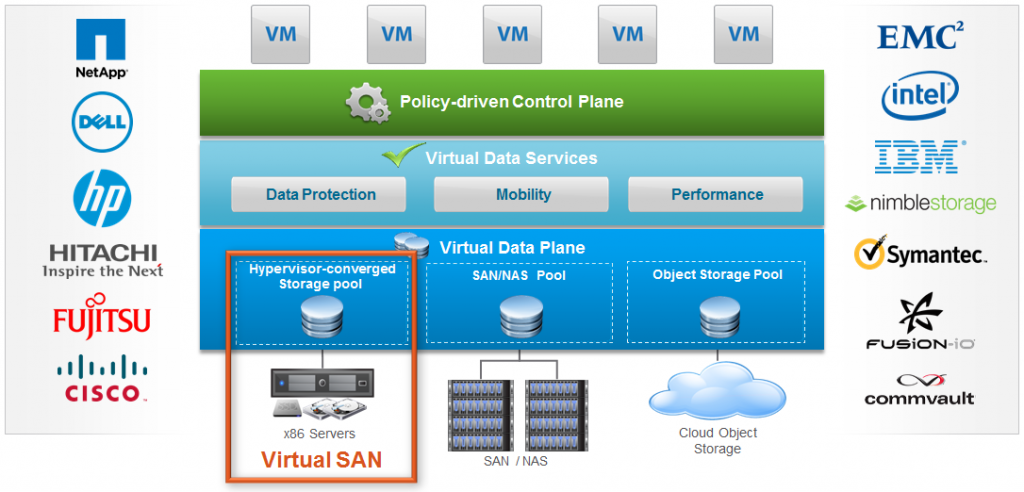 Detto questo, possiamo considerare VSAN (o Virtual SAN) come una rivoluzione, un'innovazione, una semplice evoluzione o semplicemente la re-invenzione di qualcosa già esistente? Analizziamo una per una le caratteristiche di questo prodotto:
Può funzionare su server standard x86: fin qua nulla di nuovo, già molti (oserei dire la maggioranza) degli storage gira su commodity hardware (anche se poi magari pacchettizato in una soluzione finale software+hardware), qua la differenza rispetto a molti è che è possibile scegliere il proprio sistema in accordo alle HCL di VMware
Approccio scale out e scale in: interessante il fatto che lavori in entrambe le direzioni, ma pure qua nulla di particolarmente unico e completamente nuovo
Built-in resiliency: questa dovrebbe quanto meno essere la funzionalità minima di qualunque storage enterprise
Policy-based management framework: direi che ogni Software Defined Storage (SDS) potrebbe essere in grado di implementare un simile approccio lavorando a livello di control plane
High performance hybrid flash architecture: vari storage usano l'approccio ibrido (ma va detto che non tutti lo implementano allo stesso modo, dato che esistono diverse tecniche di tiering o di caching)
Embedded in vSphere kernel: questa è sicuramente la vera rivoluzione dato che diventa una funzione dell'hypervisor e quindi non richiede più virtual appliance per essere implementato in modo convergente sullo stesso sistema di virtualizzazione
Si può quindi osservare come questo prodotto abbia molte caratteristiche interessanti e alcune delle quali uniche per questo tipo di prodotti. Ma si potrebbe dire che l'aspetto più interessante è la grande integrazione con l'intero VMware stack, la compatibilità con le relative funzioni e tecnologie e la grande semplicità di configurazione ed utilizzo.
Sarà in grado di rivoluzionare e cambiare il mondo degli storage? Probabilmente no o non subito e del resto non è il suo scopo. Ma sicuramente cambierà le carte in tavola e darà nuove opportunità e nuovi scenari e, paradossalmente, potrebbe giocare a favore anche di tutti gli altri storage che già sono di tipo SDS, scale-out e converged.
Ci sarà anche da aspettarsi sistemi ready to run per VSAN (di fatto server con tanti dischi locali ed almeno un SSD) e questo potrebbe rappresentare una ghiotta opportunità per i vendor di server che attualmente non hanno nel proprio portafoglio un'offerta server o che non hanno un'offerta server particolarmente innovativa.
Anche i limiti massimi del prodotto sembrano decisamente interessanti (fermo restanto che anche se questi limiti ci sono non è detto che per forza li devo raggiungere):
Numero massimo di nodi: 32 (questo ovviamente corrisponde al numbero massimo di host in un cluster vSphere)
Numero massimo di VM: 3200 (numero decisamente elevato, ma che porterebbe ad una media di 100 per host… alto ma non altissimo in senso assoluto… almeno non per ambienti VDI molto grandi)
Massimo prestazioni raggiungibili: 2M IOPS (solo su operazioni di tipo lettura)
Massima capacità: 4.4 PetaByte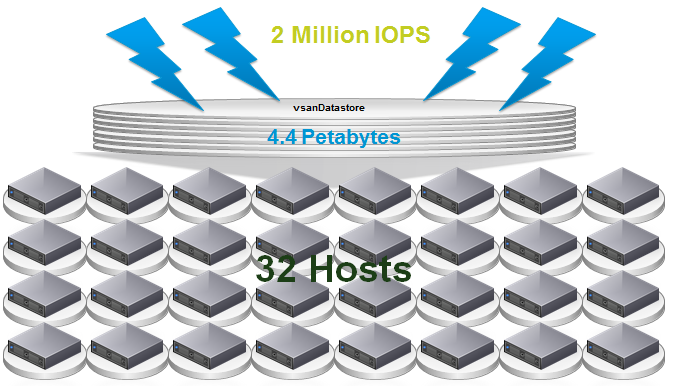 La scalabilità di questa soluzione è dichiarata essere abbastanza lineare con queste logiche di crescita:
Per magnetic disks – per la capacità
Per flash based device – per le prestazioni
Per disk group – per le prestazioni e per la capacità
Per node – per la capacità di calcolo
Sarà una soluzioni per tutti e per tutti i casi? Ragionevolmente no, visto che il vecchio VMware VSA rimarrà (almeno per ora) nel listino e si posizionerà nel segmento SMB (in realtà è già posizionato in quel segmento, visto che supporto solo 2 o 3 nodi).
Il nuovo prodotto VSAN richiede almeno 3 nodi (con vSphere 5.5 U1 o più recente) e considerato il prezzo annunciato (che è per CPU, esattamente come ESXi) si posizionerà sul mercato medium-large. Interessante invece l'offerta a listino per ambienti VDI dove la licenza ha un costo (abbastanza basso) per utente. Ovviamente vi sono sconti e promozioni per rendere il prodotto più appetibile (del resto pure lo stesso VSA quando era stato annunciato aveva un costo molto alto che poi è stato pesantemente rittoccato verso il basso).
Per maggiori informazioni (in inglese) vedere anche: