Questo post è disponibile anche in: Inglese
Reading Time:
3
minutes
Dopo il relativo annuncio risalente ancora ad agosto 2013 (Nakivo annuncia la versione 4) e alcune versione intermedie (v3.8 e v3.9) che hanno introdotto parte delle novità annunciate, è finalmente disponibile la versione 4 di NAKIVO Backup & Replication, arrivata dopo un lungo periodo beta.
Creato come soluzione nativa per la virtualizzazione, questo prodotto di backup è una soluzione all-in-one (di backup e replica) che dispone di un'interfaccia utente Web oriented in grado di proteggere le VM con tecniche di deduplica e compressione, e con funzioni di accelerazione di rete per il trasferimento dei dati.
Durante la scorsa settimana ho avuto modo di parlare con Sergei Serdyuk, Director of Product Management, riguardo le funzionalità e novità di questa versione.
Si parte dalla base di funzionalità già consolidata con la versione 3.9:
Local and offsite VMware VM backup & replication
Support for live applications and databases
Granular recovery from local, offsite, and cloud backups
Global data de-duplication and compression
Network acceleration, CBT, multi-threading, SAN support
vCloud Director support, Amazon Cloud integration
Linux or Windows install, Web UI, advanced reporting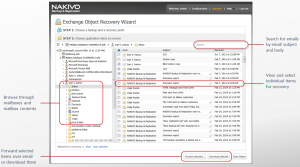 Alle quali sono state aggiunte queste tre nuove funzioni
:
Exchange Objects Recovery: permette di recuperare in modo granulare oggetti di Microsoft Exchange partendo dai backup delle VM. Questa funzione è 100% agentless e supporta Microsoft Exchange 2003, 2007, e 2010.
Exchange Log Truncation: Microsoft Exchange Server gestisce dei transaction log per tutti i cambiamenti all'interno del database di Exchange Server. Con il tempo questi possono consumare spazio. NAKIVO Backup & Replication v4 fornisce un'opzione per troncare i log di Exchange Server subito dopo un backup job (completato con successo).
Backup Verification: con questa funzione è possibile verificare i backup con i dati orginali per una maggiore garanzia di integrità e consistenza.
I prezzi rimangono simili alle versioni precedenti, con un taglio molto aggressivo per la versione Enterprise per Cloud Providers (venduta a soli 5$/VM al mese) e con prezzi speciali per i bundle VMware vSphere Essentials.
Con questa nuova versione si conferma un prodotto interessante, non solo per il prezzo, ma anche per alcune peculiarità abbastanza uniche, come l'interfaccia via web (benché vi siano sempre più prodotti di backup che si stanno muovendo in questa direzione) e per il fatto di poter essere installato sia su Windows che su Linux. Da notare che il fatto che l'interfaccia sia web non implica (neppure in questa ultima versione) l'integrazione con VMware vSphere Web Client.
Per quanto riguarda il restore granulare di vari tipi di oggetti, la scaletta con la quale saranno implementate le varie soluzione è dettata dai loro clienti e dalle loro richieste. Esaudita quindi quella su Exchange, le prossime dovrebbero essere Active Directory, poi SQL Server ed infine SharePoint.