Questo post è disponibile anche in: Inglese
Reading Time:
3
minutes
Dopo appena 5 mesi dal rilascio ufficiale di VMware Horizon View 5.3, VMware ha da poco annunciato il nuovo VMware Horizon 6.0 enfatizzandone molto le funzionalità relative alla parte di Horizon View. Nel VMware End-User Computing Blog si possono già trovare numerosi post riguardo queste funzionalità, ma ovviamente esistono già vari post di altri blogger.
Sarà qualcosa di veramente innovativo? Sarà finalmente l'anno del VDI? O semplicemente cambierà qualcosa negli equilibri del mondo dell'End User Computing?
Benché vi siano numerose novità, l'architettura base è rimasta esattamente quella (come lo era dall'inizio di View), con i diversi pro ma anche i diversi contro; quindi sarebbe più corretto parlare di evoluzione anziché rivoluzione.
Sul fatto poi che questo possa essere l'anno del VDI, penso che nessuno usi più questa frase… dopo 5 anni di profezie invane si deve constatare che il mondo dell'EUC è e rimarrà frammentato con diverse soluzioni semplicemente perché vi sono diverse necessità. Ma il nuovo View potrebbe colmare alcune di queste di queste necessità.
Le novità si potrebbero sintetizzare in questi temi fondamentali:
Cloud Pod Architecture with the possibility of global entitlements and federation across View pods
Virtual SAN to use the Software Defined Storage for Horizon (this was almost ovius after the GA of VSAN)
RDS Hosted Apps a new brokeing features (this time though View and not Workspace) to permit single application access from any device
Application Catalog to provide Unified access to desktops & Applications
vCOPs for View 6 with a new platform & In guest visibility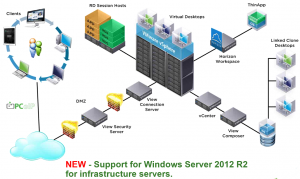 Come scritto in precedenza l'architettura base (almeno di un singolo pod) di View non è poi cambiata di molto: viene enfatizzata l'integrazione con Horizon Workspace e la presenza dei nuovi pool di tipo RDS per le applicazioni.
Da un punto di vista di architetture grandi, invece la nuova Cloud Pod Architecture cambia effettivamente il modo di progettare questi ambienti per grandi realtà (> 10,000 sessioni) o per ambienti multi-datacenter, grazie alla possibilità di federare pod diversi. Sarà decisamente interessante anche per chi affronterà il VCDX-DT sulla versione 6.
Finalmente è stato anche aggiunto il supporto a Windows Server 2012 R2 a livello di server di infrastruttura, visto che ad oggi era ancora richiesto Windows Server 2008 R2 per implementare Composer, Connection Server, Secure Server, Transfer Server.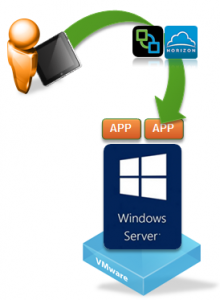 La parte di integrazione con RDS permette di distribuire applicazioni (o volendo anche interi desktop) tramite l'infrastruttura e i servizi di Microsoft Windows Remote Desktop Services Hosts (e quindi serviranno, per questa funzione, anche le relative licenze CAL) fornendo accesso a qualunque client Horizon View (Win, Mac, IOS e Android) tramite protocollo PCoIP™ (e questa forse è la novità più interessante).
Non è ancora chiaro quanto la parte di Workspace sia necessaria in questa funzione, ma sicuramente le diverse applicaizoni saranno gestibili sotto forma di pool all'interno dell'interfaccia di gestione di View Manager. Di sicuro Workspace sarà strettamente necessario per implementare il Horizon Application Catalog che tra l'altro sarà in grado in integrare applicazione XenApp, ThinApp e varie altre applicazioni (anche Office 365).
E' anche disponibile un video del CEO di VMware, Pat Gelsinger, che parla del lancio di Horizon 6: