Reading Time:
2
minutes
Manca veramente poco alla Windows Server Conference 2014, l'importante evento in programma a Milano (Enterprise Hotel, Corso Sempione, 91 – 20149 Milano) i giorni 14 e 15 aprile 2014. L'obiettivo della conferenza è fornire ai partecipanti una guida chiara per introdurre in azienda e sfruttare al meglio le tecnologie del sistema operativo di Microsoft (la piattarforma di riferimento è ovviamente Windows Server 2012 R2).
Novità di dell'edizione di quest'anno è l'attenzione anche ad altre piattaforme e l'inevitabile attenzione agli scenari di Cloud (in particolare quello ibrido).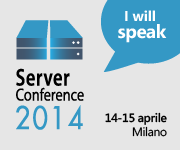 Anche in questa edizione avrò l'onore di essere presente anche come speaker; come si può vedere dall'agenda sarà alla fine del primo giorno:
VIR210: How to migrate from VMware vSphere to Microsoft Hyper-V (lunedì 14 aprile dalle 17.00 alle 18.15 – Sala A)
Sarà possibile seguire l'evento su Twitter (#servc2014), ma è solo con l'iscrizione se si può avere accesso alle varie sessioni di diretta (e come di consueto per questi eventi anche in versione off-line).
L'evento rientra in un ciclo di altre conferenze, sotto la voce comune di "Technical Conferences".
Disclaimer: Questo è un evento a pagamento ed EventHandler (l'azienda organizzatrice) mi ricompensa per la sessione. Ma non sono in obbligo di scrivere articoli riguardo all'evento stesso e/o gli sponsor. In ogni caso, i contenuti di questi articoli non sono stati concordati, rivisti o approvati dalle aziende menzionate o da altri al di fuori del sottoscritto.