Questo post è disponibile anche in: Inglese
Nella strategia di VMware, il Cloud Management rappresenta il "control plane" sia del Software-Defined Data Center (SDDC) che di un Hybrid Cloud, di conseguenza diventa una delle parti più strategiche per ottenere il meglio in entrambi i casi.
Diventa quindi normale assistere ad un'evoluzione di questi prodotti dovuta anche all'evoluzione che stanno subendo sia i SDDC che gli Hybrid Cloud. Come pure l'evoluzione delle esigenze degli utenti che chiedono sempre pià agilità, riduzione (o controllo) dei costi, utilizzo di sistemi convergenti e utilizzo di ambienti unificati per la gestione di cloud privati, pubblici e ibridi.
Quello che si nota è un passaggio da singoli prodotti a più suite che ne raccoglievano alcuni, fino da arrivare ad una piattaforma "unificata" (o almeno con l'idea di arrivare ad una piattaforma unica):

Come già annunciato, VMware ha realizzato una nuova suite specifica per il Cloud Management: vRealize Suite, che raccoglie funzioni di automazione, controllo, monitoraggio e indicatori di business in un'unica piattaforma.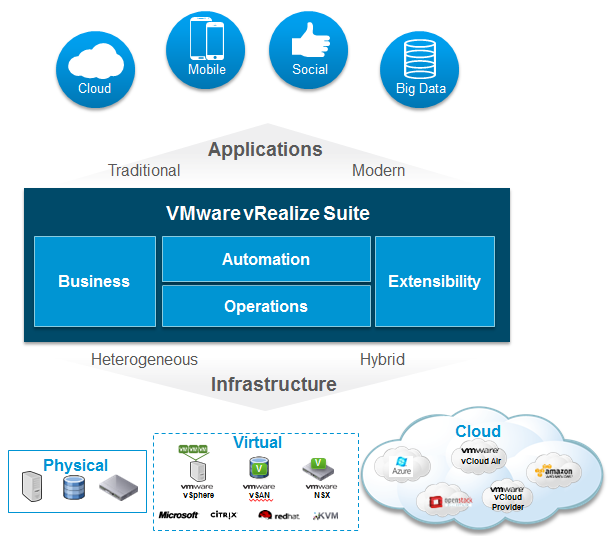 Non rappresenta soltanto una riproposizione di nomi vecchi con nuovi termini, ma una vera e propria strategia per il cloud:

E sicuramente uno degli aspetti più interessanti sarà la versione di vRealize Air: un'offerta della suite vRealize (o almeno di una sua parte) in modalità SaaS. Se i prezzi saranno interessanti (e soprattutto se sarà disponibile in Italia) potrebbe rappresentare un'ottima soluzione per aziende medie che vogliono comunque queste funzionalità.
Durante il VMworld EU 2014 (esattamente come accaduto nell'edizione dello scorso anno), sono state annunciate numerose nuove versioni dei vari prodotti che andranno a comporre la suite vRealize Suite 6.0:
vRealize Operations 6.0 (in precedenza noto come vCenter Operations Management Suite)
vRealize Log Insight 2.5 (in precedenza noto come Log Insight)
vRealize Automation 6.2 (in precedenza noto come vCloud Automation Center)
vRealize Business Std 2.0 (in precedenza noto come IT Business Management)
vRealize Business Adv/Ent 8.2 (in precedenza noto come IT Business Management)
vRealize Operations Insight 6.0 (adds Advanced Operations Management and Log Analytics to VSOM)
This post has already been read 419 times.