Questo post è disponibile anche in: Inglese
Durante la prima edizione europea dei Tech Field Day (in particolare i Tech Field Day extra alVMworld di Barcellona) una delle aziende che abbiamo visto nel secondo giorno è stata Diablo Technologies con una presentazione decisamente tecnica ed interessante. Questa azienda non è la classica start-up, visto è stata fondata nel 2003, ma soprattutto lavorano su una particolare tecnologia di storage chiamata Memory Channel Storage (MCS), una soluzione molto innovativa di storage locale flash ad alta velocità e bassisima latenza.
A parlare vi erano Jerome McFarland (Principal Product Marketer, Diablo Technologies), Daniel Beveridge (Senior End User Computing Architect, VMware), Ricky Trigalo (Director Virtualization Solution Architecture, Diablo Technologies) e l'argomento principale è stato come funziona la loro tecnologia ed in particolare come funziona in ambienti virtualizzati.


Diablo Technologies sta attivamente collaborando con alcuni produttori OEM (IBM, SuperMicro, SanDisk) per integrare la loro tecnologia con i chip SSD e con le piastre madri di nuova generazione. Ovviamente lavorano anche a stretto contatto con VMware per integrare la loro soluzione all'interno dello stack vSphere.
Nella prima parte Jerome McFarland ha spiegato i concetti chiave della tecnologia Diablo e quali sono i vantaggi rispetto ad altre tecnologie flash host-side come gli SSD su disco o quelli su schede PCI.
Diablo Introduction: Unleashing Virtualization Performance
Questa soluzione è decisamente una di quelle che garantisce maggiori prestazioni, velocità, latenza minima per un uso ottimale delle memorie Flash: tralasciando le soluzioni lato storage (che non si adattano a queste soluzioni, ma meno che uno storage vendor non inizi ad usarle internamente), lato host le soluzioni tradizionali sono quelle di collegare gli SSD al bus SAS oppure al bus PCIe. Ma in questo caso, con la soluzione MCS lo storage è collegato direttamente ad ogni CPU (rispettando anche l'architettura NUMA) con un canale a velocità decisamente superiore (e con il minor numero di ostacoli possibili sul percorso).

Carbon1 è il prodotto di Diablo che implementa memorie NAND flash direttamente su DIMM in formato standard da collegare su interfaccia DDR3, senza necessità di connettori esterni o altri apparati (ad esempio ventole per il raffreddamento o l'alimentazione).
Considerando che la maggior parte delle piastre madri dei server hanno numerosi slot di memoria, spesso non utilizzati, questa soluzione permette di ottimizzare al meglio gli spazi (si pensi ad esempio a server blade o ai mini-server che si stanno sempre più diffondendo in soluzioni come, ad esempio, EVO:RAIL).
Questo tipo di DIMM però non sono banchi di memoria standard e vanno quindi trattati diversamente dal BIOS, in particolare non deve essere fatto il check di memoria iniziale e comunque vanno poi associate a dispositivi di tipo storage a blocchi. Il problema in realtà non si presenta per le piastre madri moderne che hanno già (almeno con BIOS recenti) ma ovviamente va prima verificata la compatibilità.
L'architettura nel suo complesso mostra come sia necessario un MVM media Management lato hardware a cui collegare la DIMM MCS con il suo relativo firmware (da notare che la schedina ha una micro porta USB, ma solo per uso interno, l'aggiornamento del firmware si esegue completamente via software), il supporto del BIOS (l'unico vero limite è che si può, ma poi non avrebbe neppure molto senso, fare il boot da questo tipo di storage) e un driver a livello kernel del sistema operativo (o hypervisor).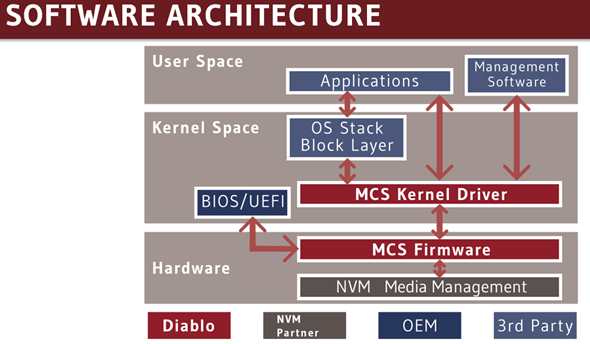 Questo tipo di soluzione può anche diventare interessare per implementare una soluzione di tiering lato host:
tier1 può essere su  DIMM Flash
tier2 può essere su SSD MLC o TLC
Nella seconda parte Ricky Trigalo e Daniel Beveridge hanno fornito ulteriori dettagli sull'integrazione di MCS con VMware vSphere e presentato il relativo impatto nel caso di ambienti VDI (tutti lo danno morto, ma è stato citato spesso al Tech Field Day extra). Ovviamente lo scenario con il VDI di VMware è solo un possibile scenario di utilizzo di queste soluzioni, non certamente l'unico possibile.
Diablo Plus VMware – The Impact of Acceleration
Da notare che più DIMM (e in fondo in configurazioni biprocessore, almeno due sarebbero necessarie, visto che bisognerebbe rispettare la topologia NUMA e il popolamento dei relativi nodi) possono essere aggregati (direttamente a livello di firmware, e quindi completamente in modo trasparente al sistema operativo/hypervisor) in un unico storage SSD (utilizzando una sorta di RAID0). Considerando che alcuni software potrebbero avere dei limiti sul numero di SSD per host (si pensi il limite di PernixData per la licenza pensata per SMB), questa funzione è decisamente utile.
In release future sarà anche possibile implementare un RAID1 per aumentare la resilienza a livello di singolo nodo. Per aumentare la resilienza a livelli di nodi invece vanno usate le stesse soluzioni di altri SSD lato host (ad esempio PernixData o VSAN).
VDI rimane sicuramente l'esempio più significativo per spiegare i vantaggi di questa soluzione e di come si dimostri interessante a livello di prestazioni, ma soprattutto a livello di latenza predicibile, costante e molto bassa: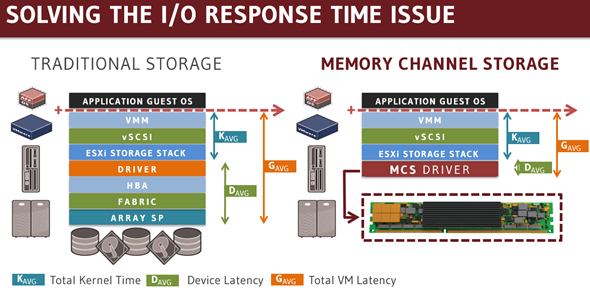 Del resto negli ambienti VDI non serve avere tanti IOPS (o quanto meno non solo), ma storage con prestazioni predicibili e costanti.
Certo, il costo non rendere queste soluzioni per tutti, ma a detta delle persone di Diablo, è comparabile con quello delle soluzioni SSD su PCIe, soprattutto a partire da un certo quantitativo di memoria in poi.
Vedere anche (in inglese):
Disclaimer: Sono stato invitato a questo meeting da GestaltIT. Ma non sono stato ricompensato in alcun modo per il mio tempo e non sono in obbligo di scrivere articoli riguardo all'evento stesso e/o gli sponsor. In ogni caso, i contenuti di questi articoli non sono stati concordati, rivisti o approvati dalle aziende menzionate o da altri al di fuori del sottoscritto.