Questo post è disponibile anche in: Inglese
Vari mesi fa VMware aveva annunciato e rilasciato Horizon for View 6.0 e le varie novità sono oramai note, tanto che molti oramai hanno già aggiornato o stanno aggiornando a questa versione.
La procedura di aggiornamento è veramente semplice come nei vari casi precedenti (vedere a titolo di esempio i percorsi di aggiornamento a View 5.3 o View 5.2) e comunque è ben documentata nella guida Horizon View 6.0 upgrades guide.
Prima di iniziare ricordarsi di verificare attentamente la compatibilità e interoperabilità dei vari elementi (in particolare le versioni supportate di vSphere) e alla fine non dimenticatevi di aggiornare anche i template delle GPO (che vanno re-importati a mano). Ci sono poi da considerare alcuni aspetti particolari che possono influenzare le scelte o le operazioni in fase di aggiornamento alla versione 6.0:
Finalmente è possibile utilizzare Windows Server 2012 R2 per le differenti componenti di View: View Composer, View Connection Server, View Secure Server (con la versione 5.x solo Server 2008 R2 era supportato, mentre vSphere già supportava Windows Server 2012 R2, ad esempio per il vCenter Server)… Questo forse potrebbe portare a riconsiderare l'aggiornamento in place e magari utilizzare una reinstallazione dei sistemi.
La funzione Local Mode non è più supportato e questo implica che non vi sono più i Transfer Server che dovranno essere decommissionati prima di aggiornare il tutto (visto che poi dopo questi non saranno più visualizzati nell'interfaccia di gestione web di View Manager 6.0).
Il Feature Pack non è più disponibile, nel senso che non è più necessario… le sue funzioni sono integrate nei pacchetti base.
View Composer
Durante la procedura di aggiornamento assicuratevi di mantenere la stessa connessione al database e (se il certificato è ancora valido) lo stesso certificato.
Ricordatevi inoltre che l'aggiornamento del Composer implica un riavvio del sistema Windows Server.
Per il resto la procedura di aggiornamento è molto banale: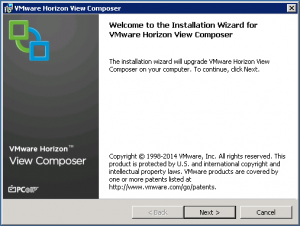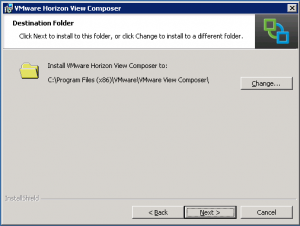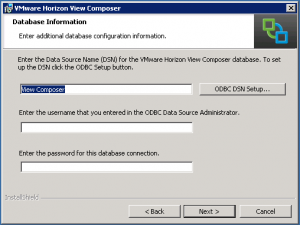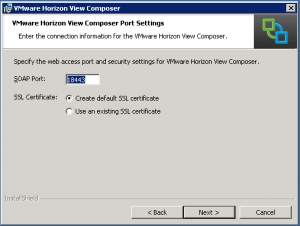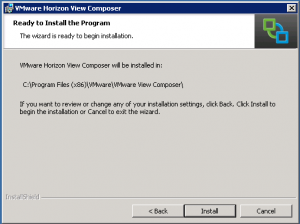 View Manager
L'eventuale feature pack (lato server) viene aggiornato automaticamente aggiornando i Connection Server (e quindi anche il View Manager). La procura di aggiornamento di questi componenti è veramente molto semplice e non richiede alcun riavvio: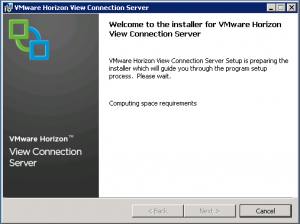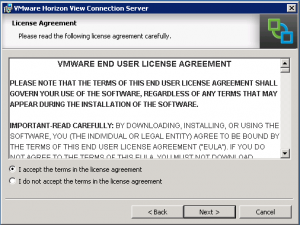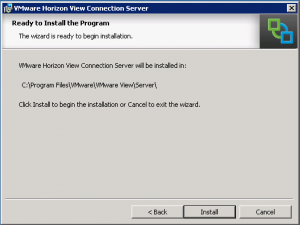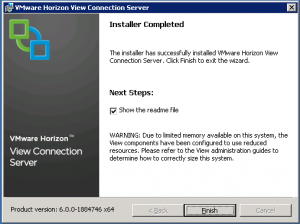 Secure Server
Questo aggiornamento è meno ovvio e presenta la maggior parte delle sorprese. L'importante è preparare l'infrastruttura (prima di aggiornarla) con la seguente procedura: In the Security Servers tab, select a security server and click More Commands > Prepare for Upgrade or Reinstallation.
Inoltre potrebbe essere utile generare una nuova pairing key prima di iniziare l'aggiornamento.
Dei problemi che possono accadere, succede che, a volte, il menu "prepare for upgrade or reinstallation" non è disponibile (ossia è in grigio e disabilitato). In questi casi bisogna far riferimento all'articolo di KB 435341 (VMware Horizon View prepare for upgrade or reinstallation is not avilable). In molti casi basta installare il View Secure Server sopra quello esistente e il problema si risolve.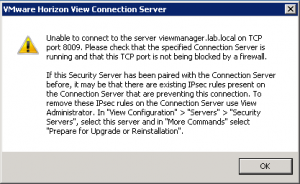 In altri casi sarà necessario rimuovere manualmente il precedente View Secure Server con questo comando
vdmadmin.exe -S -r -s serveryouwantdelete
A questo punto è possibile reinstallare il nuovo View Secure Server e fare un nuovo pairing con il corrispettivo View Connection Server: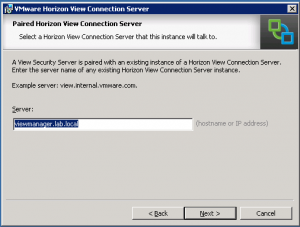 View Agent e Client
Finita la parte server bisognerà aggiornare i desktop virtuali installando il nuovo agente (che include anche le componenti del precedente Feature Pack). Nel caso vi siano da aggiornare anche le VMware Tools, potrebbe essere conveniente aggiornare prima queste ultime e poi l'agente.
Dopo aver ricomposto i pool verificate che la versione di agente sia effettivamente quella aggiornata.
Rimangono poi da aggiornare i client e benché la vecchia versione del client funziona bene sia per il protocollo PCoIP che per RDP (per Blast dovete usare un browser ed accedere al portale web), alcune funzioni non sono implementate: ad esempio l'accesso alle applicazione remotizzate tramite un RDS host è visibile solo all'interno del nuovo client.