Questo post è disponibile anche in: Inglese
Durante l'ultima edizione dell'IT Press Tour (la 14ma e la prima alla quale ho avuto l'onore di partecipare), svoltasi nella Silicon Valley (nel periodo dal primo a 5 dicembre 2014), abbiamo avuto l'occasione di incontrare molte aziende in differenti aree (Cloud, Storage e Big Data).
La seconda azienda che abbiamo incontrato durante il terzo giorno del tour è stata SpanningCloudApps, azienda fondata nel 2010 con base in Austin (TX) che fornisce una particolare soluzione di cloud-to-cloud backup e che, di recente (ottobre 2014), è stata acquistata da EMC (ora formalmente si chiama Spanning by EMC).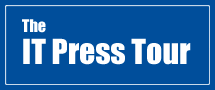 Nella prima parte, Jeff Erramouspe (CEO) ha introdotto l'origine dell'azienda e l'idea alla base della loro soluzione.
Spanning è stata creata per risolvere un problema crescente: proteggere le informazioni salvate sul cloud fornendo uno strumento potente, affidabile e di classe enterprise per il backup e il recovery di dati di applicazioni di tipo SaaS. Al momento sono supportate le Google Apps e Salesforce (e di recente anche Office 365).
Curioso come in questo campo non vi siano prodotti (se non pochi e verticali) e come manchino completamente i nomi legati ai software di backup e protezione dati (spiega anche perché EMC abbia acquistato questa azienda): le soluzioni di backup tradizionale lavorano sì con il cloud e con servizi cloud pubblici, ma normalmente come target per salvare i backup, non come sorgente da cui recuperare le informazioni (ci sono ovviamente le eccezioni, ma parlando di servizi SaaS pubblici effettivamente vi sono poche soluzioni).
Spanning cerca di risolvere questa mananza con soluzioni specifiche per il mondo delle applicazioni SaaS (del resto nello IaaS si possono usare soluzioni tradizionali e nel PaaS soluzioni o approcci applicativi), anche considerando i dati emersi da una recente ricerca (di Aberdeen Research "SaaS Data Loss: The Problem You Didn't Know You Had") dove si evince che un'azienda su tre che utilizzano servizi SaaS ha riportato perdita di dati:
64% due to user errors
20% due to malicious intent
7% due to sync errors
Spanning ha pià di 4000 clienti nel mondo (nel caso delle Google Apps proteggono più di 350,000 account, più di 4000 domini e billioni di documenti ed email) e la loro soluzione è adatta sia per le PMI che per le medie-grandi aziende. Tra l'altro uno dei loro clienti è niente meno che Pivotal (l'azienda nata da EMC/VMware per seguire tutta la parte PaaS e Big Data).
E perché non limitarsi ad usare le soluzioni di protezione dei dati offerte dal cloud provider? Prima di tutto perché la responsabilità dei dati è per sua natura di chi li possiede, quindi il cliente, non il provider. Inoltre bisogna considerare che i servizi offerti dalle soluzioni SaaS hanno alcuni limiti:
il data recovery è orientato alle funzoini interne (più verso l'infrastruttura), piuttosto che quelle esterne (più verso l'utente)
il SaaS provider non sa come sono usati i dati, è il cliente che deve dire come vanno usati (si pensi a dati di un CRM)
il controllo dei dati e della loro integrità "applicativa" è un possibile punto debole
Inoltre i servizi di data protection sono offerti con SLA, RPO e RTO norlmalmente fissi e/o limitati e non sempre vanno bene per tutti. Questi ad esempio i servizi offerti dai pricipali servizi SaaS: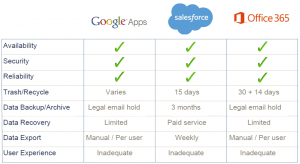 Con Spanning è possibile soddisfare i propri criteri di business e/o le proprie policy di protezione dei dati. Infine bisogna considerare anche eventuale normative e/o requisiti di compliance che difficilmente potrebbero essere soddisfatte senza un prodotto di questo tipo!
Da notare che il prodotto è  orientato al backup e restore, ma potenzialmente potrebbe essere adattato a funzioni di migrazione dei dati tra servizi SaaS diversi (si pensi ad esempio il passaggio di Google Apps a Office 365 o viceversa)… benché non confermato, hanno lasciato intuire che una funzionalità di questo tipo potrebbe rientrare in future versioni del prodotto.
Nella parte finale Russell Stockdale (EMC VP & GM Data Protection Cloud) ha parlato del portfolio EMC e delle diverse soluzioni. Spannng rientra in un'offerta molto ampia di soluzioni cloud e soluzioni di data protection. Con però ancora molta eterogeneità e alcune sovrapprosizioni. Del resto alcune acquisizioni sono molto recenti e ci vorrà un po' di tempo prima di vedere una omogeneità ed uniformità tra i vari prodotti (o almeno una buona parte degli stessi).
Per maggiori informazioni vedere anche:
Disclaimer: Sono stato invitato a questo evento da Condor Consulting Group che ha coperto i costi per il viaggio e l'alloggio. Ma non sono stato ricompensato in alcun modo per il mio tempo e non sono in obbligo di scrivere articoli riguardo all'evento stesso e/o gli sponsor. In ogni caso, i contenuti di questi articoli non sono stati concordati, rivisti o approvati dalle aziende menzionate o da altri al di fuori del sottoscritto.