This post is also available in: Inglese
Reading Time:
3
minutes
Come scritto nel post precedente, in questi giorno sono alla Nutanix .NEXT Conference, la prima importante conferenza internazionale di questo vendor, dove ovviamente ci si aspettavano anche grandi annunci.
Questi vi sono stati e tutti nella prima keynote. E devo dire che sono decisamente rilevanti , interessanti ed alcuni con potenzialità distruttive.
Un riassunto si può trovare nella relativa press release. Ma in sostanza abbiamo: una nuova release del software (NOS), nuovi software (che commenteremo dopo), un nuovo prodotto, un nuovo sistema di data protection tra nodi (erasure code), supporto futuro per i container, la possibilità di avere uno scale out file server completamente integrato e che sfrutti la potenza del file system distribuito di Nutanix, … tanta, ma tanta carne sul fuoco!
Riguardo la parte software, vi sono importanti novità, in primis il fatto che viene suddiviso in due parti. L'hardware non cambia (rimane un server x86 server SuperMicro o Dell) , salvo l'aggiunta di un nuovo modello, ma la componente software viene ora logicamente suddivisa in due prodotto distinti (ma ovviamente complementari):
Nutanix Acropolis: a new modules that provide all core functions for computing, storage and management
Nutanix Prism: mainly is the Nutanix UI that become not only easy (as it was before), but more rich infrastructure management, operational analytics (also for troubleshooting purpose) and remediation.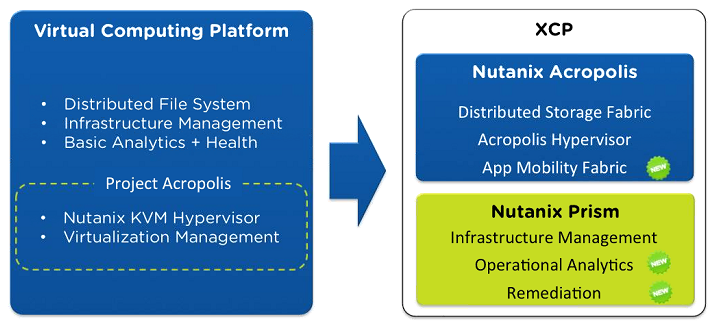 La nuova Nutanix Platform viene chiamata Nutanix Xtreme Computing Platform (XCP) e combina questi due progetti differenti e ovviamente è includa in tutti i prodotti Nutanix commenrciali.
Invece, la sola parte di Nutanix Acropolis è disponibile individualmente, di fatto, sotto forma di Commuinity Edition gratuita (con alcune limitazioni, come ad esempio il numero massimo di nodi).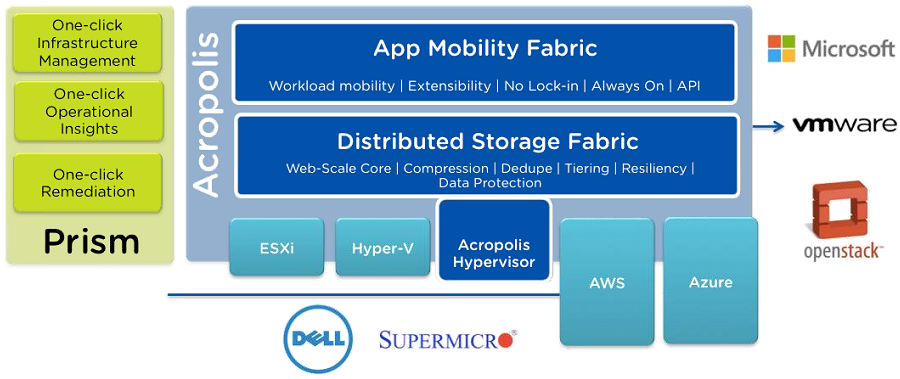 Nutanix Acropolis è costituita da tre parti distinte:
Acropolis Hypervisor: that is not a new hypervisor, but just the default one (and one of the 3 supported hypervisors) build around Linux KVM
Distributed Storage Fabric: the Nutanix core based on the distributed file system in order to implement the web-scale concepts and provide all the low-level data services like compression, deduplication, tiering, resiliency and data protection
App Mobility Fabric: that will implement several high level functions, like VM placements, VM mobility, migration and conversion, integrated DR and HA, support for a wide range of VM-based apps and rich API for integration with 3rd part software
L'aspetto interessante è l'ultimo layer che permette migrazione tra hypervisor diversi (migrazione ovviamente a freddo, ma con conversione coerente delle VM). Oppure la futura gestire dei container.
Acropolis, nella versione gratuita, sarà comunque solo KVM based (non si tratta di un nuovo hypervisor, ma di un'ottimizzazione di KVM su Linux), però già con tante funzioni interessanti, incluso l'HA (ed in futuro anche un DRS). E già certificato come hypervisor per eseguire VM con software Microsoft!
Nutanix Acropolis è già disponibile come public beta nella Community Edition. Il nuovo Nutanix Prism arriverà invece nel Q4 2015. Il Nutanix scale out file server arriverà anche lui nel Q4.
For more information see also: