Questo post è disponibile anche in: Inglese
Ora che l'edizone europea del VMworld 2015 si è conclusa e che sono finalmente rientrato a casa, posso commentare l'evento e tracciarne un resoconto di massima (un po' come fatto con l'evento americano).
Premetto che partecipare ad entrambi di eventi di uno stesso anno può essere bello per poterli poi comparare, ma non fornisce un grande valore: vari argomenti erano inevitabilmente duplicati, anche nelle general sessions. Per chi può scegliere (e ha tempo e budget) l'evento americano rimane il migliore (anche se nettamente più caotico), quello europeo è più "tranquillo" e adatto a chi non è riuscito a seguire di persona quello americano.
Come successo nell'edizione americana, questo è stato un VMworld (da tanti anni a questa parte) senza alcuna novità riguardante VMware vSphere (la nuova release è in una qualche fase beta ed era persino utilizzata come piattaforma per gli hands on lab, ma non è stata minimamente discussa, né tanto meno è disponibile in una qualche forma).
Oramai è da più di un anno che VMware sta cambiando pelle e da software house legata alla virtualizzazione si è tranformata in qualcosa di più (e per molti aspetti anche molto diversa da quanto ci si possa aspettare), con sempre maggior attenzione più che ai prodotti in sé (che diventano solo un mezzo), alle strategie e agli aspetti di ottimizzazione dei processi aziendali… il discorso è sicuramente complesso e richiede uno spazio apposito (cercherò di sviscerare il tutto in un post dedicato).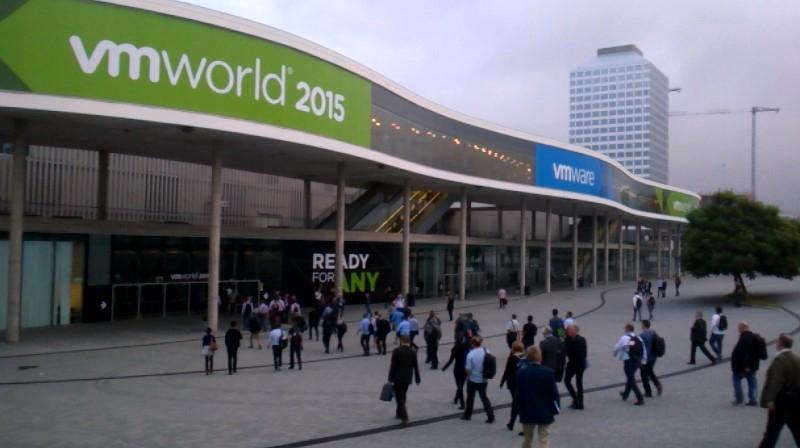 Gli annunci grossi erano giù stati fatto al VMworld americano (e funché le due edizioni rimangono così vicine questa sarà sempre e solo la ripetizione in piccolo dell'evento maggiore), anche se qualche annuncio è rimasto apposta per questo evento, come ad esempio la nuova Cloud Management Platform (oramai le novità dellla parte di management rimangono all'edizione europea), come pure qualche novità riguardo la virtualizzazione della rete (in particolare la funzione per implementare hybrid cloud networking) e sulle Cloud Native Applications.
Ma comunque più che sui prodotti in sè, l'attenzione è stata più sulle strategie e gli approcci da adottare.
"innovate like a startup and execute like an enterprise."

"if you change you can fail, but if you don't change you will fail for sure."
Questi alcuni dei concetti espressi durante l'evento, come ovviamente il motto di quest'anno che era: Ready for Any!
Il che significa: One Cloud (stesso concetto dell'anno scorso e comunque legato sia al concetto di SDDC che a quello di Hybrid cloud), Any App (in gran parte legato ai concetti e alla strategia di EUC di VMware), Any Device (il concetto di mobilità). Quindi di fatto un modo leggermente diverso per esprimere i pilastri che basano la strategia di VMware.
Ma non si può negare la notizia più grossa di questo evento (ma successa fuori dall'evento stesso) è stata l'acquisizione da parte di Dell di EMC: una mossa che cambierà l'assetto dell'IT e con possibili risvolti anche su VMware, benché tutti abbiano cercato di tranquillizzare e confermare che VMware rimarrà indipendente (e ancora quotata in borsa).
Lo stesso Michael Dell lo ha detto in un video presentato alla general session, come pure Pat Gelsinger ha speso molto tempo nel stringere accordi con gli altri CEO in gioco:
Just finished press call with @MichaelDell, Joe and David, Back to Palo Alto later to celebrate with @VMware pic.twitter.com/7hAkOBABPL

— Pat Gelsinger (@PGelsinger) 12 Ottobre 2015
Per quanto mi riguarda, buona parte del mio tempo l'ho speso nell'area community (sia quella blogger che anche con i vBrownbag TechTalks), nella Solution Exchange e nella VMUG lounge: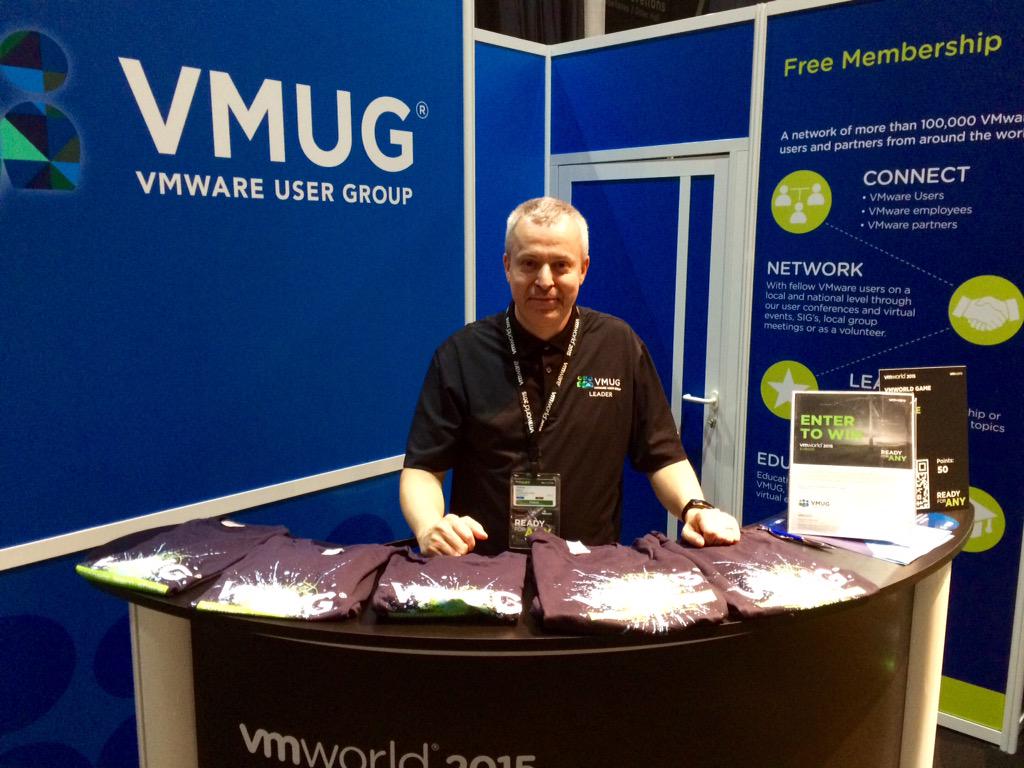 Il networking rimane uno degli aspetti più importanti e qualificanti del VMworld: del resto sia le sessioni, che oramai persino gli hands on lab sono disponibili online dopo l'evento  e quindi conviene concetrare il proprio tempo sui momenti di interazione.
A proposito degli hands on lab, come già accaduto qualche anno fa, ho avuto l'occasione di una visita guidata a come sono strutturati e gestiti e devo dire che è stato molto interessante e cusioso (ad esempio, al contrario di quanto mi aspettavo, nella parte fisica non viene usata la Virtual SAN).
Vedere anche:
E il prossimo VMworld?
Il VMworld EU 2016 si svolgerà ancora a Barcellona – Fira Gran Via (stesso posto)
17-20 ottobre 2016