Questo post è disponibile anche in: Inglese
Reading Time:
5
minutes
Rozo Systems ha annunciato la versione 2.0 della loro soluzione RozoFS scale‐out NAS, uno storage file oriented capace di scalare fino a centinaia di Petabyte, con un unico singolo namespace, con più "teste" (in modalità scale-out), supportando accesso a file tramite NFS o CIFS, ma anche accesso in modalità Object.
L'azienda è di origini francesi (basata a Nantes e San Francisco) e ha iniziato nel lontano 2005 da una ricerca universitaria. Di fatto l'azienda vera e propria è nata nel 2010 come spin-off di questo progetto di ricerca e nel 2013 ha visto la luce la versione 1.0 del loro prodotto. Attualmente hanno più di 10 dipendenti e più di 10 sistemi in produzione (in versione advanced, come vedremo dopo).
During l'ultimo IT Press Tour #17, ho avuto l'occasione di incontrare i fondatori dell'azienda (nota magari in Francia, ma non in Italia) e conoscere qualcosa di più sulla loro soluzione. Pierre Evenou (CEO di Rozo Systems) e Michel Courtoy (COO) hanno spiegato le caratteristiche salienti del loro prodotto.

Il cuore della soluzione sia il RozoFS che l'implementazione brevettata di una tecnica di erasure coding abbastanza diversa dalle solite e che fornisce prestazioni assolutamente interessanti (3 volte più veloce dell'implementazione Intel-ISA-L). L'EC di RozoFS garantisce un protection level di 5 copie con solo 1.5 volte di ridondanza e con prestazioni simili a quelle dello striping.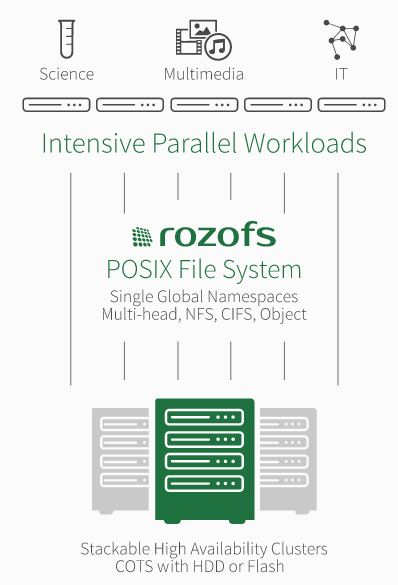 Il prodotto è veramente di tipo software defined storage solution e può essere seguito su qualunque tipo di server x86 server purché certificato per Linux. Si ha ha quindi una buona flessibilità nella scelta dell'appliance hardware da utilizzare (al momento non esistono soluzioni OEM preconfigurate), combinare dischi SSD con dischi HDD in base alle proprie esigenze e utilizzare la soluzione di global e distribuited filesystem (RozoFS) per aggregare tutti i nodi per offrire servizi comuni.
Il modello scale‐out NAS permette poi di espandere semplicemente e gradualmente questo tipo di infrastruttura sia in termini di capacità chge di prestazioni, garantite sia dal controllo real-time che dalla omogeneità sia sui file piccoli che sui file di grandi dimensioni.
I casi d'uso sono quelli tipici dei NAS (di medio-grandi dimensioni, ma non "troppo" grandi), tipicamente: ambienti di ricerca scientifici, education, media e entertainment. Al fine di garantire prestazioni di alto livello, Rozo suggerisce di fermarsi attorno ai 10 PB di capacità (benché possa scalare maggiormente).
Durante l'incontro è stato discusso lo user case di tipo Cloud DVR: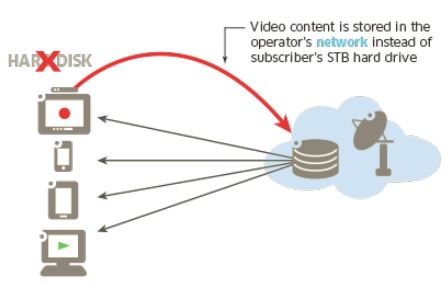 Chiaramente è un caso d'uso reale, forse non troppo interessante per le normali aziende, ma comunque interessante.
Come annunciato, è stata rilasciata da poco la nuova versione 2.0 che include:
128‐bit erasure coding: Boosts the encoding/decoding performance by leveraging the 128‐bit instructions of the x86 processors. The result is throughput of 10 GB/s on
4KB blocks.
Local auto‐repair: Supports the auto‐repair ('self healing') of one failed disk on the other disks of the same storage node, preserving the redundancy level for each file.
Quota per user and per group: Implements a familiar Linux‐like quota feature. Enforcement can be configured on the fly and accounting is always on.
Multi‐access modes: Supports three modes simultaneously: hierarchical access, the relative mode (parent/child) and the direct mode. The direct mode bypasses the metadata server for increased performance.
Data integrity and self‐healing: Protects each block on disk with a CRC32‐C checksum, eliminating all error sources between disk and application. In case of data
corruption, RozoFS repairs the faulty block on the fly.
Geo‐replication: Addresses the case where fewer than four sites are available. The geo‐replication is always asynchronous with a configurable replication rate. By default it operates in Active/Standby mode, with Active/Active also supported.
Metadata optimization: Improves metadata operations significantly by introducing time and space notions in the metadata structure. For example, RozoFS creates files at a rate of 38,000 files/sec per export. RozoFS also comes with popular Linux tools such as "find" that has been adapted to RozoFS' metadata structures. It enables indexing rates that exceed one million i‐nodes per second; higher rates can be achieved when time is given as input criteria.
Split of the data and metadata flows: Avoids slow‐downs of metadata operations (SSD) under heavy data (HDD) read/write loads.
256K I/O support: Provides better performance for sequential access and limits the randomness at disk level.
La prospettiva per il futuro è arrivare a creare un cloud gateway on-prem che utilizzi tre diversi cloud provider solo come "storage"… questo potrebbe diventare un caso d'uso di assoluto interesse per molti, riducendo anche la "dipendenza" dal tipo di cloud provider e dal suo livello di HA.
RozoFS è licenziato con due diversi modelli:
Community edition, disponibile su GitHub e sotto licenza GNU GPL v2
Advanced edition, basata su fee e che include, oltre che il supporto anche alcune funzioni avanzate come l'optimized EC
Vedere anche: Rozo systems, NAS scale-out ad alte prestazioni.
Disclaimer: Sono stato invitato a questo evento da Condor Consulting Group che ha coperto i costi per il viaggio e l'alloggio. Ma non sono stato ricompensato in alcun modo per il mio tempo e non sono in obbligo di scrivere articoli riguardo all'evento stesso e/o gli sponsor. In ogni caso, i contenuti di questi articoli non sono stati concordati, rivisti o approvati dalle aziende menzionate o da altri al di fuori del sottoscritto.