Questo post è disponibile anche in: Inglese
Reading Time:
4
minutes
Il problema è condividere tra più dispositivi o remotizzare un dispositivo USB è più frequente di quanto si creda, soprattutto in ambito virtualizzazione.
Benché già con VMware vSphere 4.1 fosse possibile virtualizzare un dispositivo USB collegato fisicamente ad un host per "presentarlo" ad una VM, questo approccio ha delle limitazioni (ad esempio per l'HA) e in genere si privilegiano soluzioni USB to LAN.
Anche perchè altri prodotti di virtualizzazione non sono in grado di gestire periferiche USB (in realtà con la prossima versione di Windows Server 2016, in Hyper-V sarà possibile).
I convertitori USB to LAN di solito sono apparati fisici con un software per la parte "client" che deve accedere alla periferica USB. Però sono spesso soluzioni non proprio economiche e, a volta, con qualche limitazione.
Etima ha un prodotto software molto interessante che permette di remotizzare periferiche USB: USB Network Gate (in precedenza noto come USB to Ethernet Connector).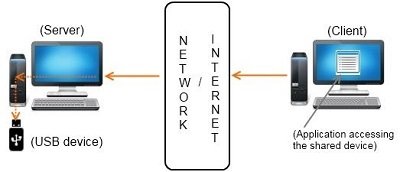 Potenzialmente può lavorare anche su rete geografica dato che utilizza il normale stack TCP/IP, ma non sono riuscito a misurare la banda effettivamente richiesta (né il sito riporta informazioni dettagliate a riguardo). L'aspetto decisamente interessante è che lo dichiarano compatibile con praticamente qualunque periferica USB, inclusi scanner, lettori di smart card e persino periferiche particolari come i tuner TV.
E non è vincolato al solo ambiente virtuale, dato che lavora tra un sistema e un altro (e quindi anche da fisico a fisico), supportando non solo Windows ma anche  Linux, Mac e Android. La trial dura 14 giorni ed è limitata ad un solo dispositivo, ma può bastare per verificare l'effettiva compatibilità.
Molto curiosa la versione Android che però non è disponibile in trial: supporta Android 4.0-4.4 ma sembra priva di aggiornamenti dal 13 ottobre 2014 (un po' come la versione Mac) e con pochi giudizi (a dire il vero molti sono pure negativi, forse per il costo elevato).
La versione Linux sembra invece molto più supportata, compatibile sia con sistemi basati su RPM che Debian e l'ultimo aggiornamento risale al 13 gennaio 2016).
La versione Windows supporta sia piattaforme a 32-bit che a 64-bit: XP/2003/2008/ Vista/7/8/10, Windows Server 2012.
L'installazione è banale e veloce, bisogna solo scegliere se installare solo la parte client o anche quella server e accettare il nuovo device che viene aggiunto al sistema per la USB redirection: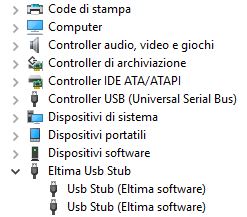 A questo punto è disponibile un semplice programma grafico on il quale collegare e vedere periferiche remote oppure condividere (se è stata installata la parte server) periferiche locali: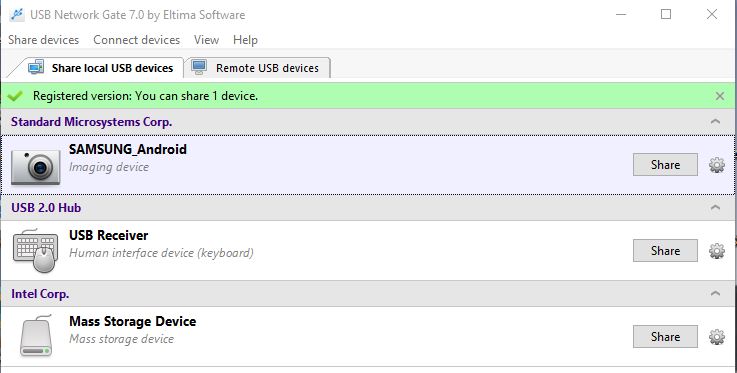 Condividere una periferica (o persino un'intera porta USB) è veramente semplice: bisogna stabile quale porta TCP usare (di default la 19027), definire una password per l'autenticazione (questa parte magari potrebbe essere migliorata), scegliere il grado di compressione (di default nessuno) e se cifrare il traffico di rete (di default non è cifrato).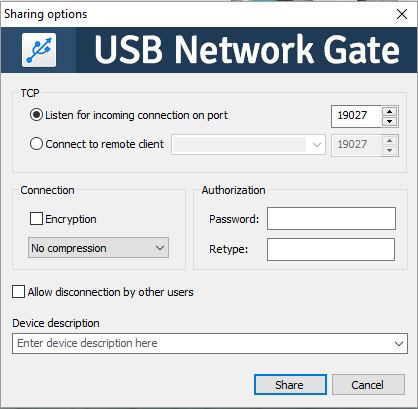 Rappresenta sicuramente una soluzione interessante, anche per il supporto multipiattaforma (anche se solo Linux e Windows sembrano abbastanza aggiornati). Certo non è proprio economico, ma costa sempre meno di molti appliance hardware di conversione. Un server fisico (ad esempio un domain controller o un backup server) potrebbe comunque esserci e questa soluzione diventerebbe interessante in ambito virtualizzazione. Può anche essere interessante per collegare una periferica locale ad un sistema remoto, laddove RDP non sia in grado.
La stessa azienda produce anche altri software simili per le porte seriali: