Questo post è disponibile anche in: Inglese
Dopo che sono stati annunciati i primi 25 #TopvBlog2016 e i relativi vincitori nelle varie categorie, dopo qualche giorno sono stati pubblicati anche i risultati finali della "competizione" annuale Voting for the 2016 top VMware & virtualization blogs.
I risultati e le liste dei migliori blog in ambito virtualizzazione sono disponibili sul sito vSphere-land. I primi posti di ogni categoria forse non rappresentano una sorpresa (nella maggior parte dei casi erano quelli che, giustamente, mi aspettavo), con una buona predominanza di persone VMware e Nutanix… ma anche di VCDX… ma soprattutto con l'evidenza che chi lavora molto (incluse le partecipazioni ai VMUG) ottiene grossi risultati. Il primo posto ovviamente non era in dubbio… oramai è più una conferma o un modo per iniziare la lista, ma il primo è sicuramente Duncan Epping.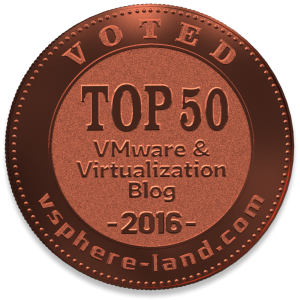 Anche se può essere falsato o polarizzato, rimane comunque un evento importante e riconosciuto: non rappresenta necessariamente una classifica di chi è meglio di chi… ma sicuramente un'ottima lista di persone da seguire. Ed è diventato un appuntamento ricorrente in questo periodo dell'anno (per chi è interessato sulla storia di questo evento, veda il post: History of the Top vBlog).
Anche quest'anno ho ricevuto un po' di voti e il sito vInfrastructure si è piazzato 31° nella classifica generale (partendo dalla posizione 21 dello scorso anno, 29 di due anni, 40 di tre anni fa e 54 di quattro anni fa quando ho iscritto il sito, per la prima volta, alla competizione).
Quindi il crescendo continuo si è interrotto e sono tornato alle posizioni di due anni fa (circa).
E' anche vero che quest'anno il numero di votanti è stato minore 1600 (in confronto ai 2200 dello scorso anno), un po' per il periodo diverso di votazione, un po' perché forse la maggior parte delle persone si sta disaffezionando a questo modo di votare. Sicuramente ha giocato negativamente il brusco calo di post che ho avuto sul mio sito a causa del poco tempo libero che ho ultimamente.
Va comunque detto che i primi sicuramente meritano la posizione nella classifica generare e che comunque fa piacere esserci. Sarà di stimolo per far meglio l'anno prossimo. E complimenti agli altri italiani che si sono posizionati in alto in questa classifica.
Per i risultati degli anni precedenti, vedere anche: