Questo post è disponibile anche in: Inglese
Quando Ravello System era un'azienda indipendente, avevo scritto vari articoli sulla loro particolare soluzione in grado di eseguire sistemi virtualizzati su cloud pubblici, tipicamente per finalità di laboratorio o test o demo.
Quando però sono stati acquisiti da Oracle (personalmente speravo venissero acquisiti da VMware, in modo da estendere il cloud ibrido a piattaforme non necessariamente basate su vCloud) ho temuto per il futuro dell'azienda (basti pensare a cosa è successo a Virtual Iron o Sun).
A quanto pare però, Oracle ha intenzione di usare Ravello come base per implementare la propria soluzione di cloud "Next Generation" con la promessa di offrire il "Best Cloud for Enterprise".
Ravello permetterà di offrire un servizio di cloud service overlay  in modo da eseguire workload virtuali su qualsiasi cloud senza alcuna modifica, né alle applicazioni, né alle VM, né alla rete, né allo storage.
Il cuore della soluzione di Ravello è la piattaforma HVX composta da questi componenti principali:
Nested virtualization engine: designed to run on already virtualized hardware with a binary translation with direct execution that exposes VMware or KVM virtual devices without no changes to the VM
Overlay networking: provide distributed switch, router, DHCP, DNS and firewall services.
Overlay storage: that abstracts underlying cloud storage, provide image caching, CoW file system, Virtual CD-ROM, transparent RAID 0 for large disks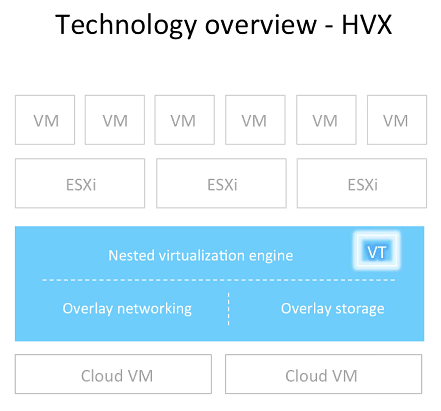 Queste invece le novità che ci saranno nella piattaforma:
Better performance with hardware assisted nested virtualization, but also the ability soon to run on bare metal
Ravello integrates with Bare Metal Cloud: to seamlessly run your VMware, Bare Metal, PaaS workloads on Oracle Public Cloud
4X Bigger VMs: support to up 32 vCPUs 200 GB RAM to fit also some monster VMs
This post has already been read 586 times.