Questo post è disponibile anche in: Inglese
Nimbus Data Systems, è un'azienda privata di storage flash fondata 2006 con alcune interessanti soluzioni (vedere il mio articolo del 2012, Nimbus Data – Storage Flash) e con la particolarità di progettare e produrre i dischi SSD internamente.
Negli ultimi anni l'azienda era un po' scomparsa e giravano voci di un possibile fallimento (tipo quando successo a Violin), anche perché il sito web non dava alcun nuovo annuncio e l'ultima "news" risaliva a giugno 2014)… Ma ora sono di nuovo "attivi", con il semplice nome Nimbus Data, ma sempre con lo stesso logo e lo stesso CEO.
Ed è di pochi giorni fa l'annuncio del disco SSD con la più grande capacità esistente (al momento): l'ExaDrive DC100 contiene 100 terabytes in un solo disco!
E' un dato sorprendente, se si pensa che solo nel 2012, il loro disco SSD tipico era di 1TB SSD: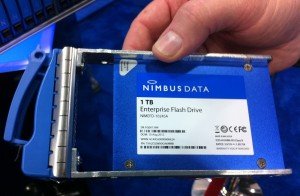 Disponibile nel formato da 3,5 pollici, questo SDD si basa su interfaccia SASA da 6 Gbps (strana scelta, considerando gli standard a 12 Gbps) ed è costituito da memorie 3D Nand.
Il disco è in grado di erogare 100mila IOPS in modalità bilanciata (sequenziale e random) ed sarà coperto da una garanzia di cinque anni. Nimbus inoltre dichiara che l'Exadrive Dc100 consuma l'85 per cento di energia in meno per singolo terabyte (10 watt in idle e 14 W quando è attivo).
Il prezzo non è ancora stato annunciato, ma in estate (quando dovrebbe essere commercializzato), lo si scoprirà
Curiosa la scelta del formato 3,5″, visto che tutti gli SSD ad oggi sono in formato 2,5″, ma evidentemente c'è troppa elettronica per raggiungere questa capacità. Sarà curioso vedere se altri vendor torneranno ad usare questo form factor per gli SSD, come già avviene invece per i dischi SATA e Nearline SAS low cost.
Quindi Nimbus Data è ancora viva e vegeta (vedere anche questo post in inglese: Nimbus CEO: We're still alive) come confermato dal suo stesso CEO:
"Nimbus Data has been very quietly at work on its most ground-breaking all-flash technology yet and soon will be unveiling a battery of new systems and software," Isakovich wrote. "The all-flash wars have only begun. Less than five percent of storage systems revenue is currently derived from all-flash systems. This is still the very early days of this industry."
This post has already been read 388 times.