Questo post è disponibile anche in: Inglese
Reading Time:
3
minutes
Come già annunciato un mese fa, dopo l'uscita del libro Mastering VMware vSphere 6.5 ho iniziato a lavorare ad un altro progetto, sempre un libro, sempre con Packt (quel che passa il convento), sempre su VMware vSphere 6.5, ma questa volta incentrato sulla preparazione per l'esame alla certificazione VCP6.5-DCV.
Il titolo del nuovo libro è: Data Center Virtualization Certification: VCP6.5-DCV Exam Guide
ISBN 13: 9781789340471
598 pagine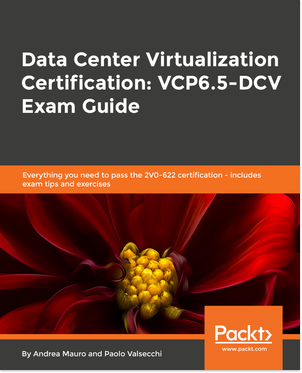 Come capitato nel libro precedente, non sono solo in questo progetto, ma mi sono fatto aiutare ancora da Paolo Valsecchi. Karel Novak è invece il technical reviewer.
Questa la descrizione del libro in inglese:
This book will teach you about automating administration tasks and enhancing your environments capabilities. To begin with, you will be introduced to all the aspects related to security, networking, and storage in vSphere 6.5. Next, you will learn about resource management and understand how to backup and restore a vSphere 6.5 infrastructure. In the third part, you will cover the aspects related to troubleshooting, deployment, availability and virtual machine management. Towards the end, you will come across two Mock Tests that will test your knowledge. It tries to cover all the topics from the scope of the exam and challenges your understanding of the topics.
Il libro è pensato per la preparazione alla certificazione VCP6.5-DCV ed in particolare all'esame 2V0-622.
A chi lo dovesse chiedere, no, non c'è un'edizione italiana. Purtroppo questo editore è molto miope e non capisce l'importanza o l'utilità che potrebbero avere libri localizzati.
Comunque il libro è finalmente disponibile sul sito Packt sia in formato digitale che in formato cartaceo:
eBook: € 26.47
eBook+Print: € 38.99
Il prezzo è un po' alto, ma le spese di spedizione sono incluse in Europa… ma soprattutto spesso sul sito Packt si possono trovare delle offerte (di solito per la versione elettronica) abbastanza interessanti.
Il libro è disponibile anche sul sito Amazon, ma al momento solo in formato elettronico (dal 7 di settembre è disponibile anche in formato cartaceo, almeno su Amazon.it):
[amazon_link asins='B07FDCYYYS' template='ProductCarousel' store='vinfrastructu-21′ marketplace='IT' link_id='14499cf8-adbe-11e8-9230-a3531325905c']
In realtà tra un paio di settimane dovrebbe essere disponibile anche in formato cartaceo pure su Amazon e probabilmente anche su altri siti di vendita di libri.
Sarà disponibile al VMworld EU 2018? Al momento non è noto, ma come era presente il libro Mastering VMware vSphere 6.5 (all'edizione US del VMworld), allo stesso modo immagino ci sarà questo libro. E al VMworld EU ci saremo sia io che Paolo, quindi una possibilità per avere il libro autografato.