This post is also available in: Inglese
Reading Time:
3
minutes
Si è scoperto un bug (o potremmo definirla una cattiva gestione dei certificati) negli ambienti Veeam: il certificato self-signed di Veeam Backup and Replication scade dopo 11 mesi dall'installazione, ma poi non viene più rinnovato correttamente.
Molti utenti si sono trovati l'impossibilità di gestire correttamente la console Veeam Backup & Replication, oltre che vedere bloccata la gestione degli agent e dei ripristini granulari.
Per maggiori dettagli consultate la Veeam KB 2806 o questo articolo nel sito del Veeam User Group.
Il messaggio di errore che compare nella Veeam Backup and Replication console è il seguente:
La prossima versione di Veeam Backup & Replication (l'aggiornamento Update 4) risolverà questo problema, ma non essendoci ancora una data certa, potrebbe essere utile intervenire manualmente.
Per chi ha una certificato self-signed i passaggi da seguire sono i seguenti.
Aprire il menu General Options e selezionare il tab Security: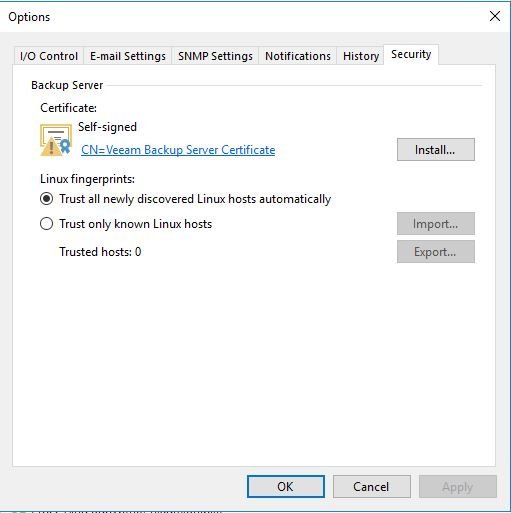 Cliccare sul pulsante Install ed iniziare il wizard Manage Certificate . A questo punto selezione l'opzione Generate new certificate:
Accettate il nome di default del certificato (Veeam Backup Server Certificate) e cliccate sul pulsante Next:
Nel sommario, controllate la nuova data di scadenza:
Notare che il certificato è usato per stabilire una connessione sicura tra diverse componenti Veeam:

Inoltre durante il rinnovo del certificato il servizio Veeam Backup sarà riavviato automaticamente.
Per queste ragioni è meglio assicurarsi prima che non vi siano Backup/Replication Job o Restore in esecuzione.
Nel caso vi fossero il processo richiederà molto tempo e potrebbe bloccarsi, di solito sul servizio Veeam Backup che rimane fermo… in questo caso riavviatelo a mano e cliccate su Retry.
Vedere anche:
Per i certificati firmati da una CA, seguite il documento su come importare un certificato.