This post is also available in: Italian
Reading Time:
2
minutes
VMware Virtual SAN is a Software Defined Storage solution from VMware that also fits in the hyper(visor)-converged model. Although is a separate product, the core functions to implement it are already present in the vSphere versions making really easy to deploy and enable it.
Is a really fast growing product, by the end of 2016, VMware HCI solutions powered by vSAN have more than 7,000 customers (more than Nutanix and SimpliVity combined, but will be nice know how many are really in production).
Also it's really fast in it's releases and new features implementations:

Usually the release are related to the ESXi numbers or updates, but the new release (vSAN 6.6) doesn't coincide with a vSphere release. It's a "patch" release for vSphere but a major version for vSAN!
The new vSAN 6.6 (the 6th generation of the product) will add more than 20 new features:
vSAN Encryption – Datastore level encryption in a dedupe/compression efficient way
Local Protection for Stretched Clusters
Removal of Multicast
ESXi Host Client (HTML-5) management and monitoring functionality
Enhanced rebalancing
Enhanced repairs
Enhanced resync
Maintenance Pre-Check
Stretched Cluster Witness Replacement UI
vSAN included in "Phone Home / Customer Experience Improvement Program"

Including Cloud based health checks!

API enhancements
vSAN Easy Install
vSAN Config Assist / Firmware Update
Enhanced Performance and Health Monitoring
Of course, not all features are in all vSAN editions, some (like QoS) have been extended to all editions, others (like security and encryption) are only in the Enterprise edition: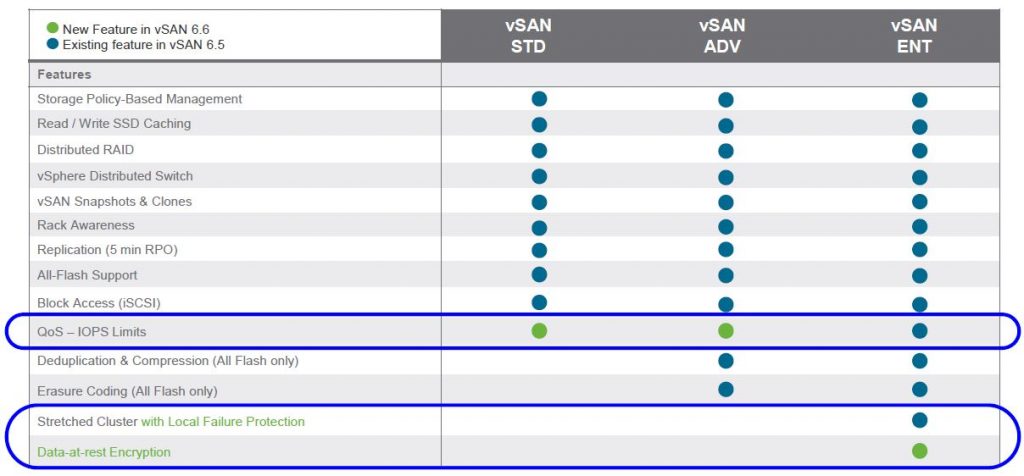 See also: