Reading Time:
2
minutes
Tintri Cloud Connector tightly integrates Tintri Enterprise Cloud to public clouds, such as Amazon Web Services, and private clouds that use public cloud APIs.
The common use case it to extend your data protection and disaster recovery strategy with secure cloud connectivity for long-term data retention. You can send local snapshots to cloud and recover to your Tintri storage systems in minutes to protect, archive and recover your mission-critical on-premises applications.
Actually Tintri Cloud Connector supports two types of destinations:
AWS S3
IBM Cloud Object Storage (COS)
But others may be added in the future. Tintri Cloud Connector uses the Tintri CONNECT architecture which abstracts storage at the right level of abstraction for virtualization and cloud to achieve the fastest recovery times and maximum flexibility.
The nice part is how it's simple: you can easily configure application protection policies from Tintri Global Center with any schedule, any retention period and any protection target. The cloud target is just a type of destination!

As other targed you can set different retention parameters: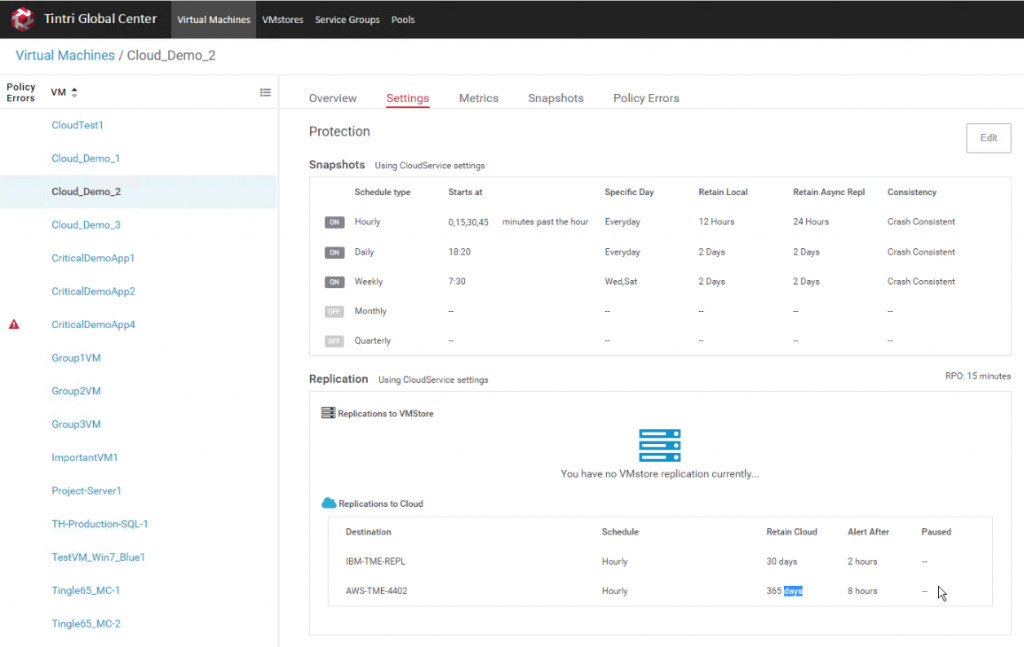 Tintri snapshots are space efficient with inline compression and deduplication, and only changed data are sent over the WAN. Data services and policy management are performed at the right level of abstraction – optimized for efficiency, cost and speed of recovery.
And when is needed, you can quickly recover from the cloud to any local Tintri storage and perform a file level restore (FLR) to recover just the data needed. For more information see this blog post.