This post is also available in: Italian
Reading Time:
2
minutes
Veeam Backup Enterprise Manager is a Web-based management and reporting application that comes with Veeam Backup & Replication (included only in the Enterprise edition). It allows management of multiple instances of Veeam Backup & Replication from a single console. It is also required to delegate restoration permission and to approve application restoration (AD, Exchange and SQL).
The installation file (Veeam_Backup_Enterprise_Manager_Setup_*.exe) is in the same archive of Veeam Backup & Replication. It can be installed on a new Windows machine or in the same machine of the Backup component.
For more information see also:
Requirements
Microsoft Internet Information Services 5.1 or later ("IIS 6.0 Management Compatibility" and  "Windows Authentication" components are required for IIS 7.0)
Microsoft SQL Server 2005/2008 (SQL 2005 Express Edition is included in the setup)
Microsoft .NET Framework 2.0 SP1 (included in the setup)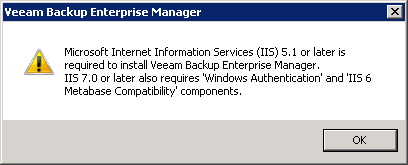 Installation
On a new Windows Server 2008 R2 you can simple add the IIS roles and then start the installation and follow the wizard.
Configuration
Logon to the Enterprise Manager
https://servername:9443
, then choose Configuration, Backup Servers, Add. In the Backup Server settings dialog enter the computer name or IP address of the backup server and provide user credentials.
Note that the the data are collected not in real-time, but periodically (according with the scheduling).