Questo post è disponibile anche in: Inglese
Reading Time:
2
minutes
Veeam Backup Enterprise Manager è un'applicazione web-based di gestione e reporting inclusa in Veeam Backup & Replication (ma solo nella versione Enterprise). Permette di gestire più istanze di Veeam Backup & Replication da un'interfaccia web unificata, anziché da ogni singola console di gestione. Inoltre è richiesto per delegare l'attività di restore ad altre persone e per gestire il flusso di approvazione dei restore a livello applicativo (AD, Exchange and SQL).
Il file di installazione (Veeam_Backup_Enterprise_Manager_Setup_*.exe) è incluso nello stesso archivio di Veeam Backup & Replication. Notare che può essere installato in una nuova macchina Windows o nella stessa dove sono già installate altre componenti di Veeam (situazione tipica nel caso di una singola istanza).
Per maggiori informazioni vedere anche (in inglese):
Requisiti
Microsoft Internet Information Services 5.1 or later ("IIS 6.0 Management Compatibility" and  "Windows Authentication" components are required for IIS 7.0)
Microsoft SQL Server 2005/2008 (SQL 2005 Express Edition is included in the setup)
Microsoft .NET Framework 2.0 SP1 (included in the setup)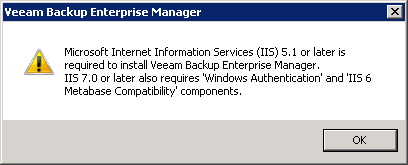 Installazione
In un Windows Server 2008 R2 "pulito" sarà necessario aggiungere il ruolo IIS con i componenti richiesti (notare che successivamente sarà aggiunto automaticamente anche il ruolo Application). A quel punto è possibile iniziare l'installazion e seguire i vari step del wizard.
Configurazione
Aprire un browser e collegarsi all'interfaccia di gestione dell'Enterprise Manager (
https://servername:9443
). Dopo la login, scegliere Configuration, Backup Servers, Add. Nelle impostazione del Backup Server specificare il nome o l'indirizzo IP del backup server e fornire le credenziali di autenticazione.
Notare che dati sono aggiornati periodicamente (in base alla schedulazione scelta) e non sono in tempo reale.