This post is also available in: Italian
Reading Time:
3
minutes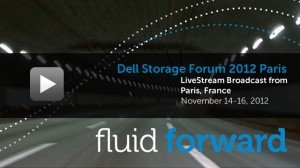 This is the keynote list of Dell Storage Forum Paris:
9:00AM CET Wednesday, November 14, 2012 "Selling the Dell Storage Advantage – A Customer Conversation"
Client, cloud, converged. These key technology transitions are changing the nature of the data centre, and offering you even more opportunity to sell your customers on the benefits of Dell storage and a Fluid Data architecture. Greg Davis, Global Channel Chief, will tell you how to tap into training and partner-only programs to help fast forward your business with Dell. Then, Brett Roscoe, General Manager and Executive Director, PowerVault and Data Management Solutions, will join several Dell storage experts—Travis Vigil, EqualLogic; Andy Hardy, Compellent; and Eric Endebrock, AppAssure—to talk about how you can use these technology transitions to your advantage in a customer conversation. They'll provide tips on how to position the right Dell storage products, and how to leverage time-tested use cases and reference architectures to validate your proposed solution.
9:00AM CET Thursday, November 15, 2012 "Fluid Forward"
From client to cloud to converged, the nature of the data centre is changing, with competing models for how IT is delivered to help a business grow. To keep pace with dynamic data growth, you need the Fluid Data architecture—storage designed to move your business forward today while also preparing you for the future. Join forwardthinking industry veteran Darren Thomas as he walks you through the Dell storage strategy and announces new advancements to the Fluid Data architecture. Hear from the Dell storage engineering leadership team—Brett Roscoe, General Manager and Executive Director, PowerVault and Data Management Solutions; Alan Atkinson, General Manager, Compellent Solutions; and Pete Korce, Vice President and General Manager, EqualLogic Solutions—about how we're accelerating innovation and moving the Fluid Data architecture forward.
9:00AM CET Friday, November 16, 2012 "Moving You Forward – The Furure of Fluid"
Look into the future of your IT infrastructure with Stefanie Myers-Woodbury, Director of Storage Strategy for Dell, as she sketches out the evolution of the Fluid Data architecture, including tiering beyond the array, converged data protection and cloud integration. She will be joined by three of Dell's senior architects, who whiteboard the future of our core technologies and change the way you think about storage.
All are also available with the the Dell LiveStream Broadcasts.