This post is also available in: Italian
Reading Time:
3
minutes
During the recent VMware Partner Exchange 2013 I've got the opportunity to meet and discuss with Scott Bennett, Sales Director Northern-and Southern Europe at Liquidware Labs.
I've already posted about the latest products release and how their solutions could be interesting for a VDI enviroment. However, it was interesting to talk directly with their vision, proposition, position, but also of their point of view regarding the evolution of virtualization ecosystem in relation to the evolution of VMware and its products (which in some cases go to limit ecosystem market).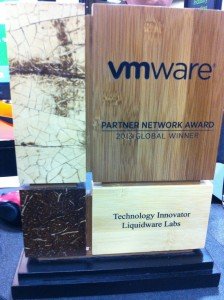 The opportunity to talk about the ecosystem role (and the role of Liquidware in the ecosystem)  was that Liquidware Labs wins global technology innovator partner of the year award at VMware Partner Exchange 2013.
"We are pleased to recognize the outstanding achievements made in 2012 by members of the VMware partner ecosystem, particularly those partners serving our global customers," said Colleen Kapase, senior director, Partner Readiness, VMware. "VMware Partner Exchange is dedicated to educating and equipping our partner ecosystem with the resources and insights they need to help deliver first class solutions for the software-defined datacenter in the coming year. We congratulate Liquidware Labs on winning a VMware Partner Network Award and we look forward to our mutual success in 2013."
"We are pleased and honored by this recognition from VMware," said Tyler Rohrer, co-Founder of Liquidware Labs who manages the Alliance with VMware.  "From assessments to image and infrastructure design, through migration and validation, we continue to broaden our channel's ability to manage the Windows® workspace in new and innovative ways.  We look forward to another year of strengthening our relationship with VMware, its Partner Network and expanding our mutual success."
Liquidware Labs Partners Comment …
"We want to add our congratulations to Liquidware Labs for this achievement," said Derrick Faur, Technology Solutions Lead at CentriNet.  "At CentriNet, (www.centrinetcorp.com) we have found  Liquidware Labs solutions essential in helping us address requirements in our customer environments and successfully move them to next generation desktops. "
"This award also validates our commitment to adhere to the Liquidware Labs desktop transformation methodology and use of their solutions to deploy successful end-user computing strategies at customer sites," said Phil Cambers, Commercial Director at SITS Group (www.sitsgroup.com), who are a VMware Small Business Partner of the Year and Liquidware Labs Centre of Excellence.   "In addition to the great technology that Liquidware Labs brings to market, it's the people that make the difference in any business.   I can say that the team there have been instrumental in our joint success over the last 12 months. Well done, Liquidware Labs!"
We have worked with Liquidware Labs from the outset, and found them to be a solid reliable partner who is working in our interest and dedicated to helping us deliver unique solutions that transform our customer's business through End-User Computing, (EUC) ," said Brian Roets, Senior Architect,  End User Computing Team,  at Systems Management Planning (SMP).