This post is also available in: Italian
Reading Time:
7
minutes
One of the several interesting topics discussed in the recent event Cloud Communities Day, held on Monday 22 in Milan and with the presence of various communities, as well as analysts and academics, was which could be the most interesting type of cloud.
If we limiting to the three basic types: Infrastructure as a Service (IaaS), Platform as a Service (PaaS) or Software as a service (SaaS)… Which one could be the more interesting? As often "it depends" could be the answer, but paradoxically, many have very clear opinions about it (though it is not said that all fit together …).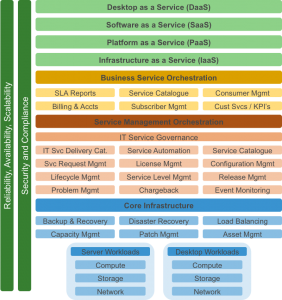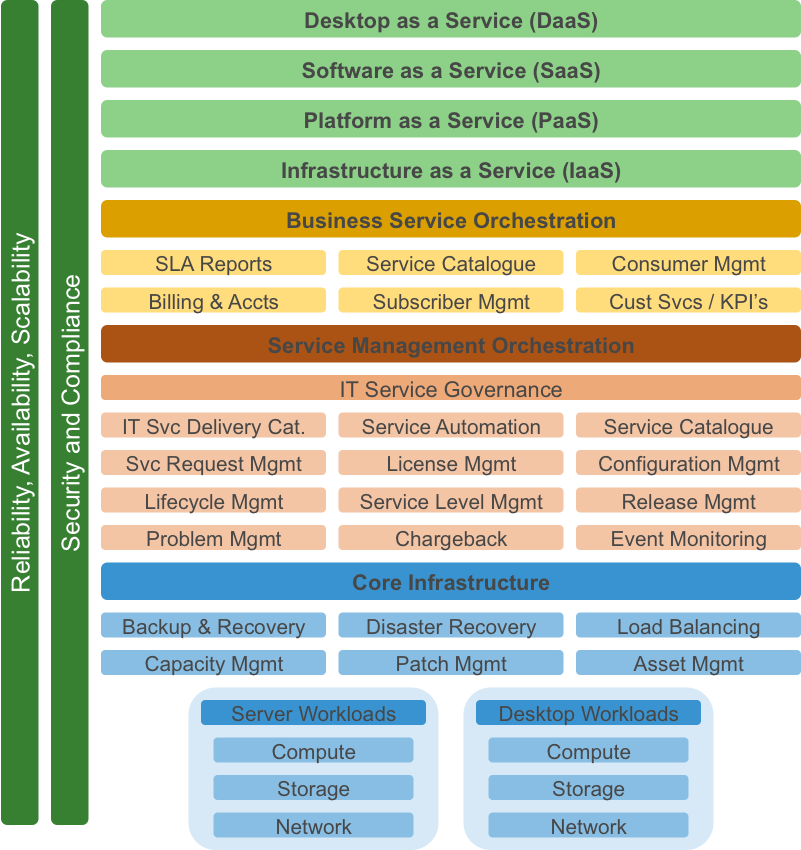 In one of the initial sessional, was described the importance of focusing on PaaS as a platform for the development of SaaS solutions. This is already applied by various companies that are realizing and using this approach (consider, for example, see Twitter that is PaaS solution, where you can make different client apps, including the web site twitter.com that would be an example of a SaaS built on the PaaS API).
This logic makes sense and allows you to build cloud-aware solutions that scale by using the peculiarities services and solutions offered by PaaS. Obviously, these functions must be used in the right way (interesting topic was the one on "Cloud Design Patterns"), considering also the aspects of high availability and scalability cross availability zones and / or region.
Obviously the communities more related to cloud technologies like Google, Amazon or Microsoft see more coold solutions PaaS based (and in some cases SaaS based), but it is also more natural, since most of these technologies are build on a PaaS model that is almost "programmer" oriented to be able to create applications according to the specifications in order to can get the maximum benefits.
One might argue why do not directly adopt the SaaS model… users need services and this approach seems more closed to user needs… but it is clear that there cannot exist an applications for all users needs and all user cases. And it said that a SaaS solution could sclae as well as a PaaS (only if it built in an intelligent way on a PaaS or on a really scalable infrastructure). Actually you can see some "SaaS" solutions that selled as "cloud solution", but they are just client-server solution avaible from the Internet.
Then there is the usability problem for different devices … although the HTML5 could help, but it is not just the issue of different formats, but also the possibility of different mode of interaction … on a tablet or smartphone the App are the must… at least in many cases.
On the other side, there are communities more closer to the infrastructure part, like OpenStack or the different VMUG. For these the IaaS is the foundation to build all the other solutions. This is partly true, but from my point of view this is not the most important thing to consider. As I said during my session, the IaaS is necessary mainly for supporting the legacy applications: and a good part of the software is still "legacy" (based on a client-server approach and not a cloud orient and distributed approach), and for these types of software solutions there are still legacy server-based operating systems (in some cases even dated) and architectures potentially simply, but which, however, can never fail, because the software does not handle the failure of the underlying infrastructure. And in this cases virtualization or IaaS cloud can help, especially the IaaS because it opens up the ability to migrate these applications in the cloud by adopting an hybrid approach (and it's not a case that VMware is focusing this kind of service and approach).
Remain the limit of the scalability of these applications and often also a limitat in the availability: maybe the datacenter is characterized by a high level of availability… but actually the software defined datacenter live confined to a single physical datacenter … so what happens if that datacenter fails? You still may need to manage the failure at the application level. And it is no coincidence that many applications provide solutions for geographical HA (like of SQL Server Always On or Exchange DAG just to cite two examples).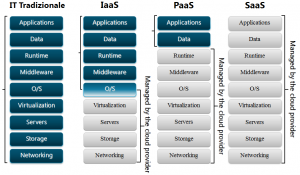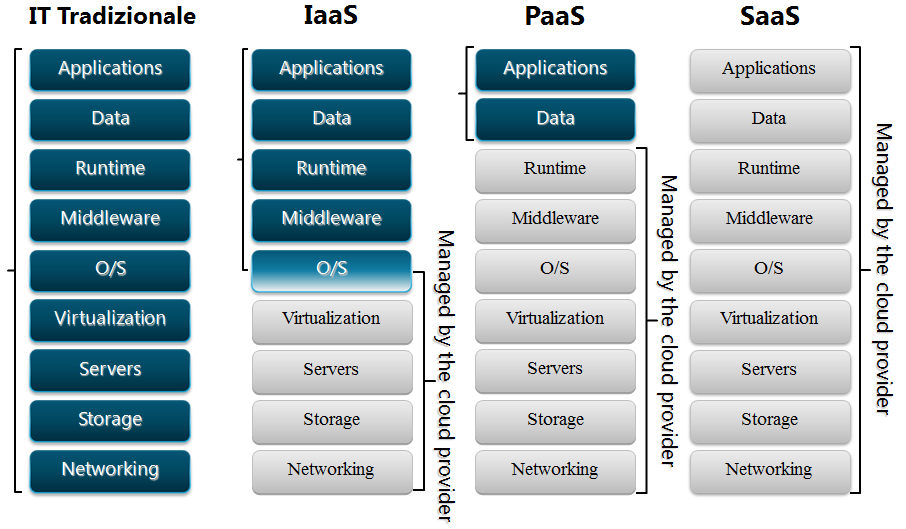 About the fact that IaaS is necessary and mandatory to build PaaS or SaaS solution, I'm not so convinced … It may seem logical, you have also to consider the cloud provider concern: too much levels means more complex, potentially more management effort (automation could help) and also potentially less efficiency.
Some SaaS solutions (but also some PaaS) are actually build over a physical infrastructure, certainly with sevel scalability solutions and perhaps also with distributed filesystems or resource… but IaaS is mandatory, the only requirements are scalability, automation, and some form of abstraction (but also an operating system is an "astractor"). In the future, we might expect to see true platform for PaaS cloud realized by distributed systems? Actually they are often made ​​of instances, perhaps multiple and maybe replicated build over systems more or less traditional.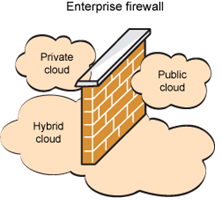 About the discussion related to how cloud services and resource are are distributed and used, by using private, public or hybrid approaches, it is quite clear that, for IaaS, the hybrid approach covers most of the requirements (which give the ability to choose which resources keep in the private part and which in public one or maybe also use more public parts).
However, there are a number of aspects that must be considered (other posts are needed): the placement criteria, how handle the migration (actually limited to a cold process), how extend the datacenter between the private part (which may not even be a real private cloud) and the public one, how manage availability and scalability of those solutions, … There are several answers and solutions, but they seem sketchy or more at the first attempt. For example let's consider the datacenter extension solution used in vCloud Connector, that is based on a VPN over SSL, when vCloud Director provide other solutions (of course this make sense considering that vCloud Director may not exist in the private part, by it's another solution…).
The hybrid approach could also be applied to SaaS solutions (for example Exchange is able to manage accounts on-premise Exchange account on-line). More complicated is adopt it for the PaaS where the complexity of the private part may negate the advantages of a cloud solution.
And which are the advantages? Or which one could really driven the cloud adoption? In final roundtable we have discuss also of this aspect and the main reason is the cost: whether it makes sense it is clear that it becomes interesting and all will adopt it. And this is exactly the opposite of what was expressed in one of the initial sessions, where you should not make war on costs… But we do not live in a perfect world and the reality of the IT consumerization is that costs matter!