This post is also available in: Italian
Reading Time:
2
minutes
VMware has announce other news in its certification path: first the new Network Virtualization path (already discussed in a previous post) and second a new level (or the re-introduction of a previous level). Also the VMware Forum reflect this change with a new area dedicated to the new VCA level.
Actually the official page reports all the new Associate level, and also the Certifications roadmap show the new path (actually only with the Associate level) and the new level: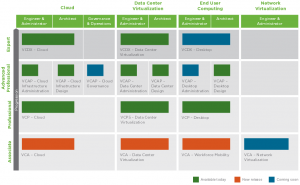 As you can notice the Associate level is the entry-level one (like the MTA from Microsoft, or like other Associate levels) and there will be the following certifications:
The old VMware Certified Associate 4 – Desktop (VCA4-DT) (that was also the first attempt to build an entry level) is still present, but as you can notice there isn't yet a VCA5-DT (or VCA-DT considering that new certifications does not have the version number).
For more information see also the official blog post. Currently there is a 50% discount off the exam!