This post is also available in: Italian
Reading Time:
3
minutes
Microsoft Hyper-V 2012 R2 has been announced some months ago with the announce of new Microsoft OSes and will be officially available on October 2013 (actually the RTM it's already available for OEM and people with Technet/MSDN subscription access).
Scalability aspects has not been changed, so limits are just the same. But there are several other improvements.
One of the first new is the new "virtual hardware" Generation 2 that mainly remove all legacy drivers and has several speed improvements. Now you can build a new VM with "legacy" virtual hardware (Generation 1) or a completly new model (Generation 2):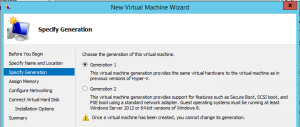 For more information see also: New Generation 2 Virtual Machines and Performance Improvements in Generation 2 Virtual Machines.
Plan careful which version use because actually the conversion between different type can only be handled with 3rd part tools and there are also some limits in the Generation 2 VM (like the supported guest OSes).
Other improvement are related to Live Migration (see Live Migration Improvements in Windows Server 2012 R2) that now include:
Full SMB 3.0 support with SMB-Direct ( RDMA ) and SMB-Multichannel
Fast Live Migration with Compression
About "live" operations now is possible do an online VHDX Virtual Disk Resize or Live VM Export and Clone (common in VMware from several years, and now available also in Hyper-V).
Several news also related with Linux Guest enhancements that now include:
Full Dynamic Memory Support
Online VM Backup from Hyper-V Host
Online VHDX Virtual Disk Resize
On the storage side now is possible have Storage Quality of Service ( QoS ) and also Guest Clustering with Shared VHDXs.
About the Hyper-V Replica Site-to-Site Replication enhancements:
Finer replication frequency control – 30-seconds, 5-minutes or 15-minutes
Extended replication to a third (tertiary) Hyper-V Replica Target
For more information see also:
Note: Windows Server 2012 R2 it's a new OS (like was Windows Server 2008 R2), this mean that users have to re-acquire new license (and note that Datacenter Edition cost has been increased), or invest in Software Assurance. Or, of course, they can use the Hyper-V Server 2012 R2 that is still free for charge.