Questo post è disponibile anche in: Inglese
Reading Time:
3
minutes
Microsoft Hyper-V 2012 R2 è stato annunciato vari mesi all'interno degli annunci dei nuovi sistemi operativi Microsoftche saranno disponibili poco dopo la metà ottobre 2013 (al momento la versione RTM è già disponibile per gli OEM o per chi possiede un accesso Technet/MSDN).
Gli aspetti scalabilità non cambiano rispetto alla versione 2012, dato che i limiti massimi rimangono gli stessi. Ma vi sono comunque numerose altre novità.
Una delle più evidenti è il nuovo "virtual hardware" (chiamato semplicemente Generation 2) che di fatto rimuove tutte le componenti legacy ed incrementa le prestazioni delle VM. In fase di creazione di una VM è possibile scegliere di crearla con il virtual hardware legacy (Generation 1) o con il nuovo modello (Generation 2):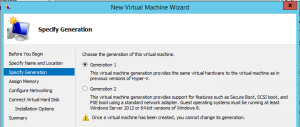 Per maggiori informazioni vedere anche: New Generation 2 Virtual Machines e Performance Improvements in Generation 2 Virtual Machines.
Attenzione che la scelta del nuovo modello va pianificato con attenzione, visto che vi sono dei limiti nella Generation 2 (ad esempio nei sistemi operativi supportati) e che, soprattutto, non è prevista la conversione da un modello all'altro (almeno non verso il basso) se non con strumenti, per ora, di terze parti.
Per quanto riguarda la Live Migration, sia con o senza storage condiviso, vi sono numero se novità (vedere Live Migration Improvements in Windows Server 2012 R2) e in particolare:
Full SMB 3.0 support sia per SMB-Direct ( RDMA ) che per SMB-Multichannel (già erano in parte sfruttabili ma solo nel caso del shared nothing)
Fast Live Migration con compressione
Sono state aggiunte anche numerose operazioni che ora si possono eseguire "live" come l'online VHDX Virtual Disk Resize oppure la Live VM Export and Clone (comuni in VMware dove erano già presenti da diversi anni).
Anche per quanto riguarda le VM Linux Guest vi sono diverse novità, tra le quali:
Full Dynamic Memory Support
Online VM Backup from Hyper-V Host
Online VHDX Virtual Disk Resize
Lato storage è possibile implementare lo Storage Quality of Service ( QoS ) come pure realizzare un Guest Clustering with Shared VHDX (si questo argomento vedere anche questo interessante articolo in italiano).
Alcune migliorie anche sulle funzioni di Hyper-V Replica:
Finer replication frequency control – 30-seconds, 5-minutes or 15-minutes
Extended replication to a third (tertiary) Hyper-V Replica Target
Per un elenco completo di tutte le novità vedere:
Nota: a differenza di Windows 8.1 che prevederà un upgrade gratuito (per chi possiede Windows 8), Windows Server 2012 R2 è un nuovo prodotto e un nuovo sistema operativo (esattamente come successo con Windows Server 2008 R2), questo implica il ri-acquisto delle nuove licenze nel caso non si sia coperti da Software Assurance. Ovviamente, in alternativa, è possibile usare Hyper-V Server 2012 R2 che rimane sempre gratuito e completo di tutte le funzionalità di Hyper-V.