This post is also available in: Italian
Reading Time:
5
minutes
As you probably now the vSphere Fault Tolerance features has been unchanged from the first version (in vSphere 4.x)… untill now.
With vSphere 6.0, recently announced, there is a new Multi-Processor FT (SMP-FT) features that replace the previous one and brings now continuous availability protection for VMs with up to 4 vCPUs!
It's not something news in the virtual environments… several years ago Marathon announced the everRun MX, that was the first solution, but only for Citrix XenServer. Initial plans of this producs expect also a vSphere version, but the company was then acquired by Stratus Technologies and everRun MX is now a Windows oriented solution.
But let's see the new version of VMware vSphere 6.0 Fault Tolerance.
But the multi-processor support is not the only news related to the new FT. There are additional new features:
Enhanced virtual disk format support (not only eagerthick, but all type of VMDK)
Ability to hot configure FT
Greatly increased FT host compatibility
API for non-disruptive snapshots
Support for vStorage APIs for Data Protection (VADP)
Note that there are some difference between the vSphere editions: according with the comparison table, only the Enterprise Plus edition will support really 4 vCPU. For Standard and Enterprise there will a 2 vCPU VMware FT.
Different implementation for more features
FT "6.0" is completly different from FT "1.0": different implementation, different architecture, different requirements and of course different features.
Note that FT will be totally new, but the UI interface remain the same intuitive of version 1.0, with same menu and same logic… so you can enable FT on a VM in few seconds (of course if you have already prepared the infrastruture for it).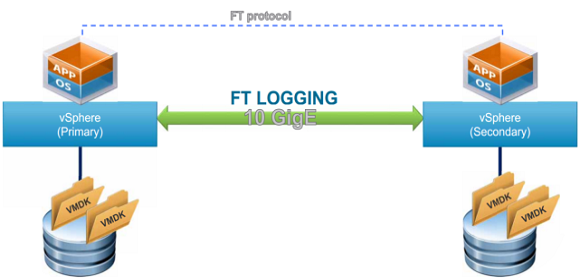 In previous version FT was using a VMware vLockstep technology to keep the secondary VM in "virtual lockstep" with the primary one. The secondary executes the same instruction stream as primary and replays events at exact point logged on primary. Now a new technology is used called Fast Checkpointing that is very fast and permit continuous copying/checkpointing of the VM.
The storage requirements are also changed: with previous version a shared storage was mandatory and VMDK have to be "cluster prepared" (eager thick type) before activate FT. Now also the storage is fault tolerant, in order to support snapshot and the other features on the primary VM, each VM has it's own:
vmx config file
vmdk files (new)
And it cloud be on a different datastore:

Snapshot or not?
FT VMs can now be backed up using VMware based backup software, the same as all other VMs (FT VMs could always be backed up using agents). They are backed up using snapshots through standard API (VADP). Those API are using VM snapshots in order to make the backup possible with the VM still running.
But note that this does not mean that you can now take a snapshots of FT protected VMs: snapshots are not user-configurable – users can't take snapshots. It is only supported as part of VADP.
It's all nice and perfect?
For sure it is a big improvement, but has some implications due to the new technologies.
First FT is more resource intensive: of course the more vCPU that you are supporting with FT will increase resource requirements. There wil be also a 10-­30% overhead depending of the type workload.
And the storage replication imply that also bandwidth will increase with duplicate IOPs. The new requiment is now 10 Gbps NIC allocated for FT (actually, in the beta was possible use also with 1 Gbps NIC, with a compatibility warning, but of course will be not supported). Due to the new architecture will be not possible use a shared storage and avoid VMDK replication… you can use a shared storage, but in this case you will double the required space of your VM.
Of course, there are also some limits on number of VMs per host: maximum 4 FT protected VMs or 8 FT protected vCPUs (whichever limit is reached first). Note both of these maximums include primary and secondary VMs/vCPUs.
And remember that FT is still an HA solution that protect from host failure… it cannot protect from application or guest OS fail (like, for example, using guest clustering).
Features recap
| | | |
| --- | --- | --- |
| Feature | FT (vSphere 5.5) | FT (vSphere 6.0) |
| vCPUs | 1 | 4* |
| Virtual Disks | EZT | Any |
| Hot Configure FT | No | Yes |
| H/W Virtualization | No | Yes |
| Backup (Snapshot) | No | Yes |
| Paravirtual Devices | No | Yes |
| Storage Redundancy | No | Yes |
| VSAN/VVols | No | No |
| HA | Yes | Yes |
| DRS | Partial | Partial |
| DPM | Yes | Yes |
| SRM | Yes | Yes |
| VDS | Yes | Yes |
| Storage DRS | No | No |
| VCD | No | No |
| vSphere Replication | No | No |
* Only for Enterprise Plus (or Branch Office Advanced) edition (for others the limit is 2)
VMware will recommending the new FT for vCenter Servers, or at least add it as supported HA solution? Initially no, but not for technical limitations, jsut because has not yet tested enough. Seems that SMP-FT will be supported for vCenter Server for some use cases. The exact details are still being finalized when the downloads becoming available.
For more information see also: