This post is also available in: Italian
Reading Time:
2
minutes
Some days ago, VKernel has release a post (Hyper-V 3.0: Closing the Gap With vSphere 5) that compare the new Hyper-V 3.0 with the existing vSphere 5.0.
I don't know if the post was written before of after the Quest acquisition, but it doesn't matter: it's a comparison of two products not homogeneous, because will be released probably next year and and one was released on August of this year.
But the data can still be used to see how Microsoft is working to reduce and close the gap with VMware, at least on the hypervisor part: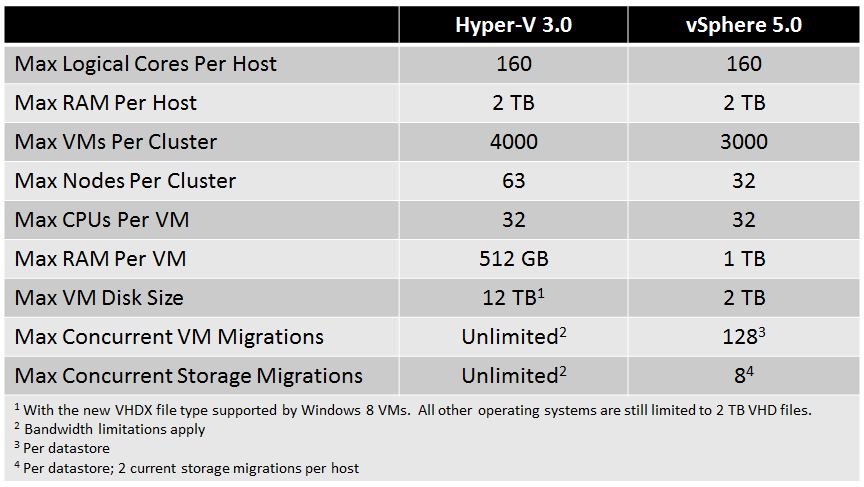 Here's some other awesome additions in the upcoming Hyper-V 3.0 release:
Simultaneously live migrate both the VM and the VM's disk to a new location.
Live migrate VMs without shared storage
NIC teaming with out special third-party hardware – something VMware has already been doing and also Microsoft Partners Already Implementing Hyper-V 3 Virtual Switch
Drag-and-drop files from one virtual machine to another to directly transfer without having to pass through the host or your workstation.
The ability to host virtual disks on file servers – CIFS, SMB, NFS
Since Hyper-V will also be packaged with the Windows 8 desktop OS, some kind of migration (probably cold) between desktop and server could be implemented. But Workstation 8 can already do this today.
It will be interesting to see how it matches up against vSphere in performance. In August, VMware released a third-party performance study, showing that vSphere 5.0 outperformed the current release of Hyper-V by 20%. If Hyper-V wants to compete on all levels, this is something Microsoft will most likely be addressing.
If you're curious to dig into the upcoming Hyper-V 3.0 a bit more, here's a couple of the better posts and articles: