Reading Time:
2
minutes
Several months ago VMware announce vSphere APIs for IO Filtering (VAIO) as a solution to implement 3rd Party Software-Defined Data Services in vSphere 6.0. VAIO offers partners the ability to put their technology directly into the IO stream of a VM through a filter that intercepts data before it is committed to disk.
It's a good and efficient idea to implement features like caching or replication without the need of external components (or appliance) or kernel modules like today.
But this a partner program (like the Virtual Volumes) and unless partners have not developed this kind of solutions, it is useless.
VAIO is a Software-based data services controlled by Storage Policy-Based Management that enables secure filtering of a VM's IO safely in the kernel according to a policy.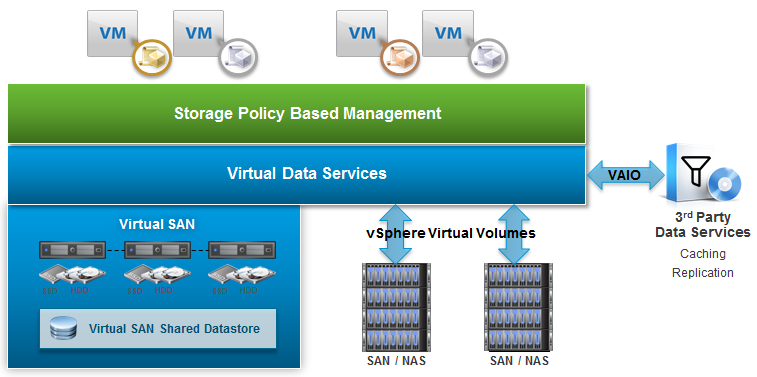 The initial use cases will be caching (for example with a SanDisk solution) and replication (for example with an EMC solution).
Most important is a framework storage agnostic to different architecture – works with Virtual Volumes enabled storage, Virtual SAN, and legacy storage.
And completly integrated with snapshots (for a caching solution is possible trap a snapshot request and flush the data to ensure the consistency) and other vSphere features.
For sure will become an important API to implement new services (deduplication could be another interestin user cases) or security models. Virtualization ecosystem can adopt this approach as a standard solution to put their hacks instead of use previus approaches that always needs custom management or scripting or 3rd part software only for management. With VAIO it's all VM driven and all inside the vSphere Web Client, so in a common and standard interface.