Reading Time:
3
minutes
Altaro is a fast-growing software company with easy to use and affordable (also for the price) backup solutions for small- to medium-sized businesses, specializing in backup for virtualized environments.
Their main solution is Hyper-V Backup v5 designed to make backup of Microsoft Hyper-V VMs easier than ever, with refined and sophisticated features, and also affordably priced (it include also a free edition, limited to 2 VMs per host and with a 4 weeks maximum retention). You'll be up and running in a matter of minutes, protecting your VMs by using flexible features for automated backups and offering a host of granular restore options to recover quickly and safely from hairy situations.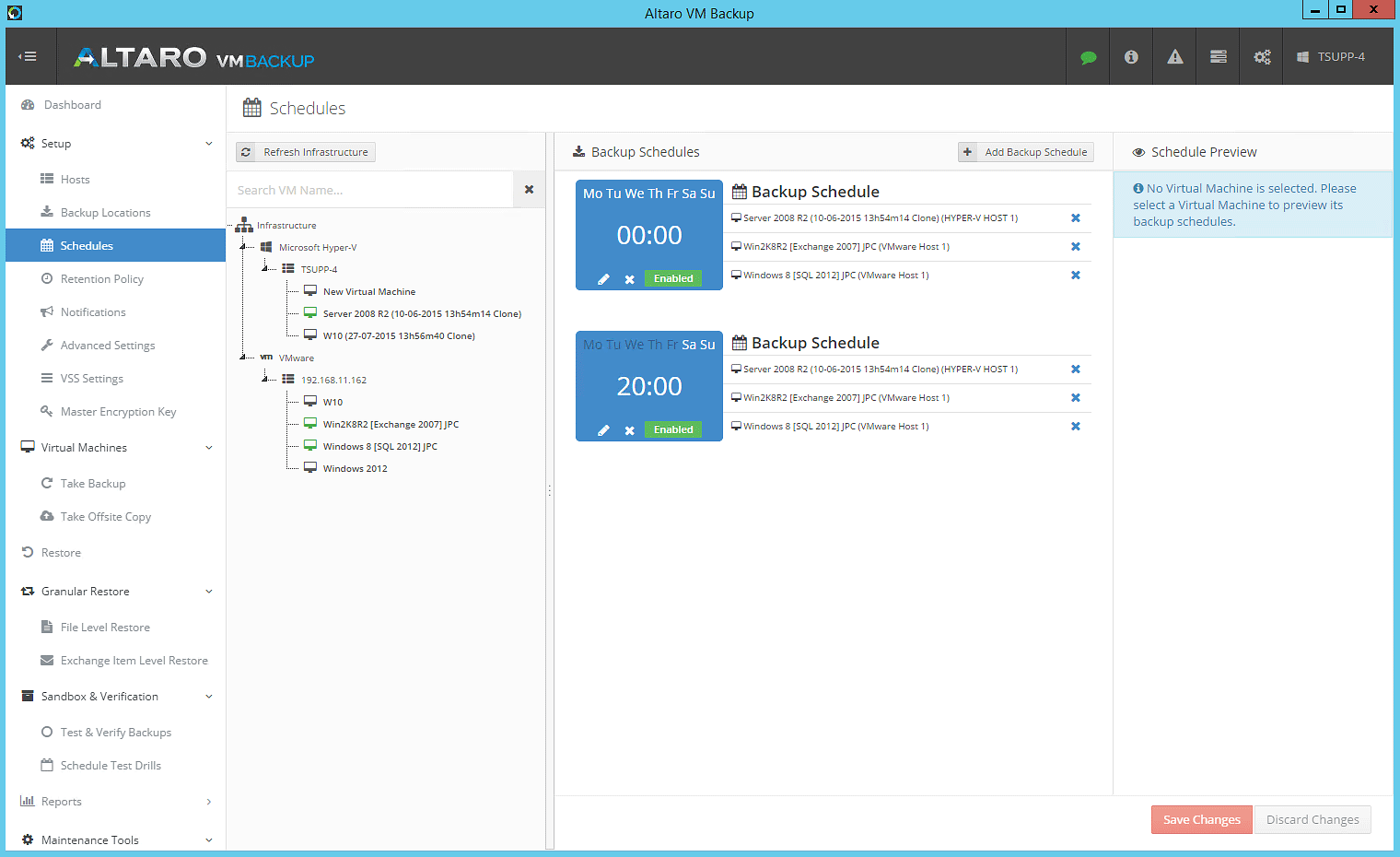 But there is also big news: Altaro VM Backup is the new name of the product and it has just been released after their public beta! Please note that I've tried the beta (6.0.2), so some features or menu can be a little different.
At release (that will be v6), Altaro VM Backup will not only support VMware but also still Hyper-V hypervisors, both from the same interface.
Versions of VMware supported:
VMware vSphere 5.0, 5.1, 5.5 and 6.0
VMware vCenter 5.0, 5.1, 5.5 and 6.0
VMware ESXi 5.0, 5.1, 5.5 and 6.0
Versions of Hyper-V supported:
Windows 2008 R2 (all editions)
Windows Hyper-V Server 2008 R2 (core installation)
Windows Server 2012 (all editions)
Windows Hyper-V Server 2012 (core installation)
Windows Server 2012 R2 (all editions)
Windows Hyper-V Server 2012 R2 (core installation)
To manage backup configuration and jobs from a separate machine, you can install the Altaro VM Backup on these OS's:
Windows Server 2008 R2, 2012 and 2012 R2
Windows 7 (64-bit) and 8 (64-bit)
So there will be a new multi-hypervisor backup solution with rich features and targeted for the SMB segment (price is per host and the unlimited edition actually costs only €495 per host). Considering that the data protection ecosystem had (in the past) some stops (company acquired by others but without pushing on the product, some product has died, VMware has tried to enter in this market), it's nice see more interests and attention again. And while some companies are suffering or does not have yet a clear data protection plan (see for example what happen with Symantec and Veritas) other can rise.
For more information see the product page: http://www.altaro.com/vm-backup/