Questo post è disponibile anche in: Inglese
Reading Time:
3
minutes
Altaro è un'azienda con un'interessante soluzione di backup specifica per ambienti virtuali VMware vSphere o Microsofto Hyper-V, caratterizzata da un basso costo (adatta soprattutto a realtà PMI).
Dopo un lungo periodo di beta, con numerose build, ora è disponibile la nuova versione 7.6.4 di Altaro VM Backup.
Altaro VM Backup è una soluzione di Backup e Ripristino di macchine virtuali Hyper-V e VMware studiata appositamente per le piccole e medie imprese.
Le sue caratteristiche sono:
Operatività rapida: è possibile installare la soluzione e fare il primo backup entro 15  minuti;
Deduplica: la migliore del settore con un backup di piccole dimensioni.
Supporto tecnico: rapido, efficiente e incluso nel prezzo;
Modalità MSP: sottoscrizione mensile per monitorare e gestire il backup dei Clienti da una singola console in cloud sempre disponibile;
Licensing: basato su Host e non su Socket.
Anche la semplicità è abbanza notevole, benché non sia subito intuitivo, o almeno non lo è per chi non è abituato a lavorare con le policy.

Tra le novità della nuova versione vi è la funzione di Continuous Data Protection (CDP) che permette di eseguire il backup delle VM ogni 5 minuti, migliorando sensibilmente il Recovery Point Objective (RPO); ciò significa che in caso di perdita di dati, si perdono pochi minuti di dati e non ore o giorni.
E' totalmente gestita via policy, specificando quali VM e quali sono i parametri richiesti di RPO e retention.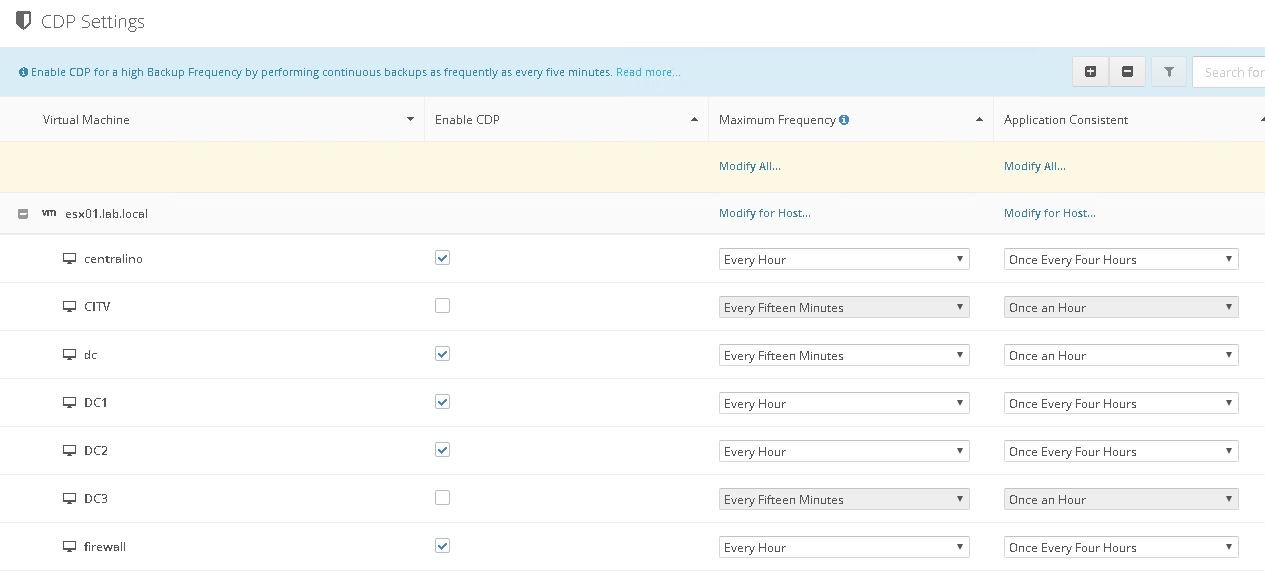 Note: CDP is only available to customers with an active renewal (SMA) who have the "Unlimited Plus" edition of Altaro VM Backup. It is currently available for Hyper-V; and will soon be available for VMware.
Un'altra importante novità è Grandfather-Father-Son Archiving (GFS) for Local Backups che permette di impostare e di conservare tre backup separati: uno ogni settimana per 12 settimane, uno ogni mese per 12 mesi e uno ogni anno per 2 anni; in questo modo è possibile archiviare i dati per periodi di tempo molto più lunghi di quanto fosse possibile in precedenza.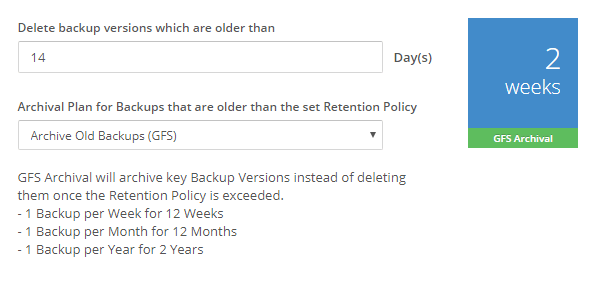 Note: GFS is available for all customers on Unlimited and Unlimited Plus Editions of Altaro VM Backup.
Vedere anche: